August 13, 2019
In January 2016, Roy Coe received an allogeneic stem cell transplant from an unrelated donor to combat non-Hodgkin lymphoma. Two years later, the lifelong Kansas City resident and former Union Pacific Railroad worker – who'd never before been north of I-80 – flew to Minneapolis to meet the donor who made his lifesaving treatment possible.
And that selfless individual turned out to be New Orleans Saints wide receiver Austin Carr.
Roy's lymphoma journey begins
The journey began when Roy was diagnosed with lymphoma in 2012. He received chemotherapy, but relapsed several years later. He turned to The University of Kansas Cancer Center, a National Cancer Institute-designated cancer center, for the advanced care he needed to achieve remission.
"At the time that I met Mr. Coe, he had relapsed mantle cell lymphoma," explains blood and marrow transplantation specialist Sunil Abhyankar, MD. "His best chance at a long-term cure was an allogeneic stem cell transplant."
The team began its search for a well-matched donor.
"We couldn't find anyone in my family who was a match," Roy says. His care team consulted with the National Marrow Donor Program®, which operates the Be The Match® international marrow registry. There, a 96% matched donor was identified, quickly followed by a 100% match. "That's the one we used. It was our hope that this transplant would fix everything up."
A process of healing
The donor cells were infused into Roy in a process much like a blood transfusion. This process occurs on what's called "day zero." It's the first day of a 90-day period in which the new cells take hold in the body. It's a sensitive time when it's essential to take every precaution to avoid infection, and transplant side effects can be grueling, requiring special care.
Roy relied on Linda Baur, his partner of more than 14 years, for support during a challenging healthcare process. While fully devoted to each other, the couple is not married, meaning they had none of the leave-of-absence benefits often available to legally married partners. Linda could not take off work, and the couple rely on her income, so Roy often accompanied her to her evening shifts at the packaging company where she works, sleeping on a cot in the corner while she performed her professional responsibilities.
"I should be a nurse by now, for all I've done," Linda laughs.
Roy adds, "The care team all truly go out of their way. They don't get nearly enough credit. They treat you very, very well through a tough process. They are a class act."
Key to stem cell transplant success
The stem cell treatment provided the cure Roy and Linda sought. Roy isn't quite back to pretreatment state yet, but he continues to make progress. He has symptoms of graft-versus-host disease (GVHD), which occurs when the donor cells mistakenly attack the recipient's normal cells. In Roy's case, these symptoms are relatively mild, including brittle nails and strawberry marks on his hands.
A number of important factors contributed to Roy's successful outcome.
"We have a robust blood and marrow transplantation program here, and perform a procedure volume that places us among the top 10 programs in the country," Dr. Abhyankar notes. "The experience and expertise of our BMT team – including doctors, nurses, nurse practitioners, laboratory staff and researchers – provide patients and their families with the assurance that they will receive top-quality care."
An unexpected opportunity
In early 2018, in remission from the lymphoma for more than 2 years, Roy was presented with a special invitation. His donor reached out and asked to meet him. Ellen Maxwell, RN, transplant coordinator for the cancer center, received the call and shared the news with Roy.
"It's always a great privilege to connect a stem cell recipient with a donor," she marvels. "And to find that the donor is an NFL player offering you tickets to the Super Bowl just takes it to a whole new level. Roy and Linda are such deserving people. Roy is the kind of man who will do whatever it takes to live his life as long as he can. Linda was with him after transplant at all times, and it can be a very difficult process. They are truly bonded and share a special love."
The National Marrow Donor Program and the cancer center together facilitated Roy and Linda's travels, eager to support the emotional introduction between donor and recipient and bring awareness to the impact simply joining the registry can make.
Initially hesitant about traveling to Minneapolis in January, Roy became increasingly excited to meet his donor.
"I want to show my appreciation to Austin," Roy said before the meeting. "This donation most probably saved my life. I owe him a handshake and a big thank you at the very least."
And upon meeting Austin – with not a dry eye in the room – Roy exclaimed, "This is just incredible. It is finally hitting home that people like Austin go out of their way to save people like me who need the help. I have overwhelming gratitude, and it's growing by the minute."
Austin, who had his cheek swabbed in 2012 when Be The Match visited his college football team, says, "Saving lives was never so easy. The price I paid doesn't compare to the benefit Roy got. I feel glad and blessed that I was able to help."
The gift of life
Today, Roy is doing well, an achievement for which Dr. Abhyankar credits the coming together of several important factors.
"The success of Roy's transplant was possible due to the combination of finding a well-matched, healthy donor, benefiting from excellent care from our BMT team, and receiving diligent and loving support from his partner, Linda," he says.
Their whirlwind trip to Minneapolis was one Roy and Linda won't soon forget, but Roy sums up the most important takeaway.
"I hope this encourages more people to register," Roy says. "I hope people give it some thought and really consider it. You don't have to die to be a donor. If you donate while you're alive, you can see the results for yourself."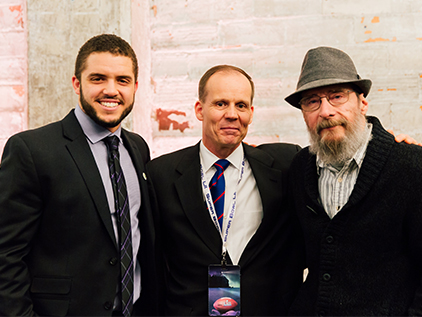 New Orleans Saints wide receiver Austin Carr, BMT specialist Dr. Joseph McGuirk and lymphoma survivor Roy Coe meet at the Super Bowl in Minneapolis.
As with all treatments, individual patient results vary. It is important to discuss your treatment options with your healthcare provider.