Skip Navigation
Message from the director
2016 Cancer Research Highlights
At The University of Kansas Cancer Center, we look at cancer from several perspectives.
Early on, we recognized that in order to move closer toward a world without cancer, we first had to step back for a broader view, beyond the walls of our laboratories. From deepening our understanding of cancer's biology to expanding cancer prevention efforts to ensuring patients' care continues after treatment, we are tackling cancer on multiple fronts.
In these pages, we report on the progress we have made at the forefront of cancer research, including the development of new therapies. I'm excited for you to learn about a potential "first" for The University of Kansas Cancer Center – a cancer drug discovered here in our laboratories, poised to become the first cancer drug invented at The University of Kansas Cancer Center to go from bench to bedside entirely within the confines of our institution. We also discuss our sharpened focus on the underserved and minority populations, who all too often slip under the radar when it comes to prevention and early detection. Personalized medicine continues to be a vital component to our research. All of these and more demonstrate the cancer center's commitment to studying cancer from all aspects.
A common thread throughout the report is the importance of collaboration across laboratories and institutions, including Stowers Institute for Medical Research and Children's Mercy. By joining forces, patients benefit from a deeper pool of specialists and clinical trials, and researchers have access to a larger group of subject matter experts and other resources. Last year, the cancer center and Children's Mercy combined its pediatric oncology departments. With this partnership, all ages, from children to the elderly, are covered.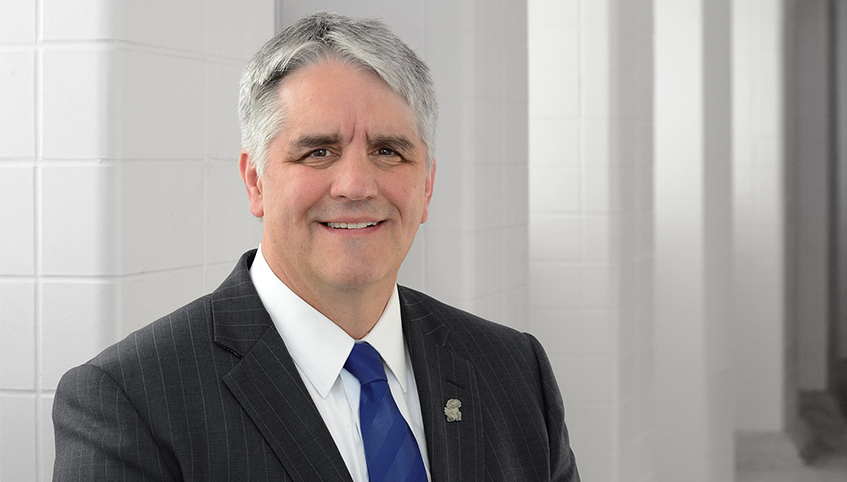 It's an exciting time for the cancer center and our community. We recently submitted our request for National Cancer Institute designation renewal, which is required every 5 years. In our application, we asked to be considered for Comprehensive designation, the most elite designation available to a cancer center. Comprehensive centers demonstrate an added depth and breadth of research, as well as substantial transdisciplinary research that bridges all scientific areas. It also requires a greater emphasis on preventing cancer through education, prevention and early detection. We have been working toward Comprehensive status for years, and it's now within our reach.
I have been overwhelmed with the support the cancer center has received from the community. Our supporters and donors have unfailingly been our biggest champions. In return, our employees are giving back to the community, extending contributions beyond lab benches and clinics.
Without our researchers, scientists, clinicians and staff, our progress against cancer would come to a halt, but our team brings new insights and discoveries to the fight against cancer on a daily basis, and I am proud to share their work in this report. It is an honor to be surrounded by such an ambitious and committed group of people, all united in the quest to serve our patients and their families.
I hope you enjoy learning more about The University of Kansas Cancer Center.
Sincerely,
Roy A. Jensen, MD
Director, The University of Kansas Cancer Center
Director, Kansas Masonic Cancer Research Institute
Related links