Skip Navigation
Delivering big wins for you
Delivering big wins for you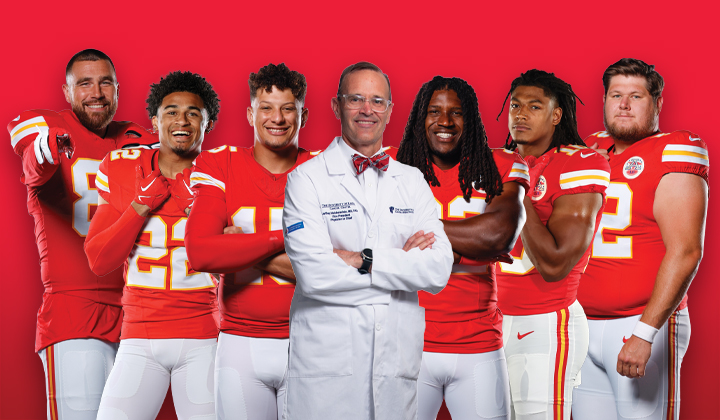 When your opponent is cancer, you want the best players delivering the best outcome for you. That's exactly what you'll find at The University of Kansas Cancer Center, the region's only National Cancer Institute-designated comprehensive cancer center, where patients experience superior survival rates.
Like the reigning world champion Chiefs, our nationally recognized team of experts works together to give you the best possible outcome following a cancer diagnosis. We have 150+ disease-specific oncologists who are elevating standards in cancer care. These proven champions provide unrivaled expertise and experience in diagnosing and treating all forms of cancer, from common and complex to rare.
We apply an interdisciplinary approach to cancer care and treatment. This means cancer center team members put their hard-earned training and skills to use every day to make sure you receive the safest and most effective treatment designed specifically for you.
Maybe it's a second opinion on a cancer diagnosis you're looking for. You've come to the right place. Our winning team knows the value of getting a second opinion on a cancer diagnosis. A cancer second opinion can ensure you get the correct diagnosis and the best treatment for your type of cancer. Research shows getting a second opinion at an NCI-designated comprehensive cancer center can result in a change in diagnosis and in treatment plan. On top of that, patients treated at NCI-designated cancer centers have a 25% better chance of survival.
Best players, delivering the best outcomes
As the region's only NCI-designated comprehensive cancer center, and 1 of only 54 in the nation to receive this elite distinction, our patients receive the gold standard of care. This includes:
Nationally and internationally recognized specialized providers
Fellowship-trained physicians with extensive specialty training encompassing all aspects of cancer care
Board-certified oncology surgeons subspecialized in their respective disease type who perform complex procedures/techniques not available elsewhere in the region – includes breast, colorectal, lung, fertility preservation, genitourinary/prostate, gynecology, neurology, plastics and reconstruction and sarcoma
A hematologic malignancies and cellular therapeutics program that was among the world's first providers of FDA-approved CAR T-cell therapy and currently offers all FDA-approved CAR T-cell treatments and several clinical trials
Multidisciplinary molecular tumor conference to interpret and understand a patient's tumor molecular profiling tests and studies and recommend patient-specific targeted therapies
Specialty- and subspecialty-trained, disease-specific oncology nurses and nurse navigators – a lifesaving difference you won't find elsewhere in the region
Clinical trials across the entire cancer continuum, from prevention through survivorship, to advance treatment and discover ways to prevent, diagnose and treat various types of cancer