Skip Navigation
Leadership Team
The University of Kansas Cancer Center is one of the nation's leading cancer centers and the region's only National Cancer Institute-designated comprehensive cancer center. We are part of a nationwide network of fewer than 60 elite comprehensive cancer research centers whose sole focus is to advance cancer patient care, research and treatment.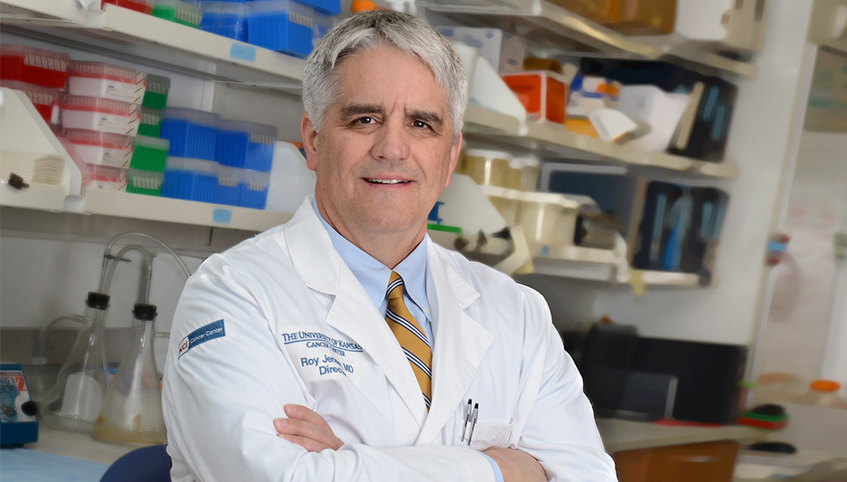 Roy Jensen, MD
Vice Chancellor and Director, The University of Kansas Cancer Center
Director, Kansas Masonic Cancer Research Institute
William R. Jewell Distinguished Kansas Masonic Professor
Professor of pathology and laboratory medicine, anatomy and cell biology, cancer biology and molecular biosciences
Roy Jensen, MD, was named director of The University of Kansas Cancer Center in 2004. Since that time, he has recruited a world-class leadership team. With his guidance, and a broad-based university, community and regional effort, The University of Kansas Cancer Center achieved National Cancer Institute designation in July 2012. The cancer center is currently 1 of fewer than 60 NCI-designated comprehensive cancer centers across the country.
Dr. Jensen graduated from Vanderbilt University School of Medicine in 1984 and remained there to complete a residency in anatomic pathology and a surgical pathology fellowship with David Page, MD. Following his clinical training, he accepted a postdoctoral fellowship at the NCI in the laboratory of internationally recognized cancer biologist Stuart Aaronson, MD.
After joining the faculty at Vanderbilt University, Dr. Jensen's research focused on understanding the function of BRCA1 and BRCA2 and their role in breast and ovarian uncontrolled and abnormal cell growth. Genetic mutations of these genes are believed to be responsible for about half of all inherited breast cancer cases. His laboratory was instrumental in demonstrating the role of BRCA1 in the growth control of normal and malignant cells and in how loss of functional BRCA1 contributes to the development of breast cancer. He currently has more than 150 scientific publications and has lectured widely on the clinical and molecular aspects of breast cancer pathology.
Dr. Jensen is past-president of the Association of American Cancer Institutes and a member of several scientific and professional societies, including the American Association for Cancer Research, the American Association for the Advancement of Science, the American Society for Cell Biology, the American Society for Investigative Pathology and the United States and Canadian Academy of Pathology.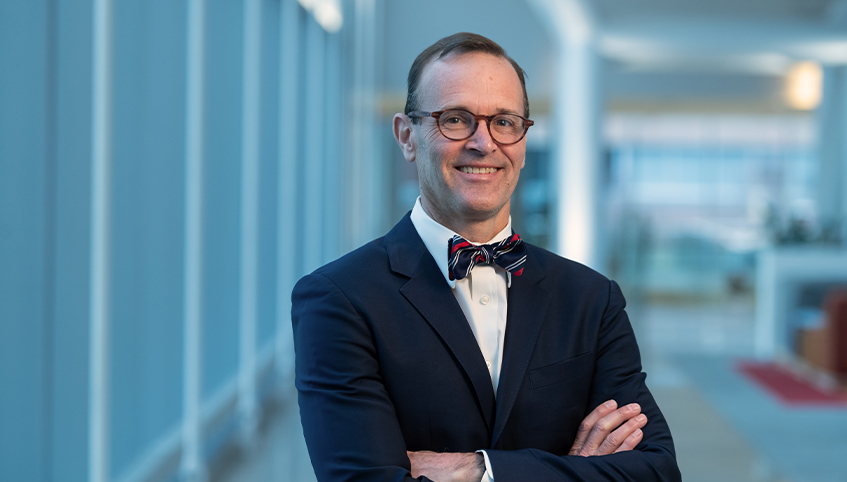 Jeffrey Holzbeierlein, MD, FACS
Physician in Chief, The University of Kansas Cancer Center
William L. Valk Endowed Professor
Department of Urology and Urologic Surgery
University of Kansas School of Medicine

Jeffrey Holzbeierlein, MD, FACS, combines his expertise as professor, surgeon and researcher to provide clinical oversight at The University of Kansas Cancer Center as physician in chief. He is nationally recognized for his expertise in genitourinary malignancies and has the largest experience and volume in bladder cancer surgery reconstruction in the region.

Dr. Holzbeierlein has published numerous peer-reviewed journal articles, numerous presentations and abstracts in journals and textbooks dealing with urologic oncology. He leads a research team at the University of Kansas Medical Center dedicated to studying the causes of and latest treatments for prostate and bladder cancer.

In addition, Dr. Holzbeierlein is president for the Society of Urologic Oncology and past chair of the fellowship committee and serves on the executive board of the SUO. He is on the executive board of directors and is a past president of the South Central Section of the American Urological Association. He has served on the American Board of Urology Examination Committee and is an oral board examiner for the American Board of Urology. He is a fellow of the American College of Surgeons and serves on the Kansas selection board. Dr. Holzbeierlein is also the past chair of the Young Urologic Oncologists Section of the Society of Urologic Oncology. He has been a reviewer for the Journal of Urology, Practical Reviews in Urology, Cancer and Urologic Oncology.

Dr. Holzbeierlein was raised in Edmond, Oklahoma, and received his undergraduate degree from Vanderbilt University. He earned his medical degree at the University of Oklahoma and completed his internship and residency at Vanderbilt University. He joined the faculty at the medical center after he completed his fellowship in urologic oncology at Memorial Sloan Kettering Cancer Center, New York.

Andrew Godwin, PhD
Deputy Director

Shrikant Anant, PhD
Associate Director, Basic Science

Christie Befort, PhD
Associate Director, Cancer Prevention and Control


Ronald Chen, MD, MPH
Associate Director, Health Equity
Joe and Jean Brandmeyer Chair, Department of Radiation Oncology

Teresa Christenson
Associate Vice Chancellor and
Associate Director for Administration

Matthew Mayo, PhD, MBA
Associate Director, Shared Resources

Joseph McGuirk, DO
Division Director, Hematologic Malignancies and Cellular Therapeutics
Medical Director, Blood and Marrow Transplant
Professor of Medicine, Schutte-Speas Professor of Hematology-Oncology


Lisa Shnayder, MD
Division Chief, Head and Neck Surgery

Christian Sinclair, MD
Chair, Palliative Medicine

Weijing Sun, MD, FACP
Associate Director, Clinical Research
The Sprint Professorship of Medical Oncology
Director, Division of Medical Oncology
Jamie Wagner, DO
The Women's Cancer Center
Chief, Division of Breast Surgical Oncology

Scott Weir, PharmD, PhD
Associate Director, Translational Research Drug Discovery
Director, Institute for Advancing Medical Innovation
Kelly Family Foundation IAMI Professor in Cancer Drug Discovery and Development
Danny Welch, PhD
Associate Director, Education

Jeff Wright
Vice President, Cancer Services
Related links