Skip Navigation
The University of Kansas Cancer Center is on an urgent journey to break the devastating grip of cancer. We are the only National Cancer Institute-designated comprehensive cancer center in the region, and 1 of fewer than 60 in the nation, to receive this elite distinction. Comprehensive designation is the highest level of recognition awarded by the NCI. It is the gold standard of excellence, awarded only to cancer centers with the deepest and broadest knowledge of cancer.
NCI-designated cancer centers are recognized for their scientific excellence, including their depth and breadth of research. They are the backbone of innovative research and care across the country, helping to pioneer today's most groundbreaking advances in cancer treatment.
Here, the individual well-being of each patient we treat is of the utmost importance. Our highest priority is to provide patients and their loved ones with exceptional medical and supportive care. We aim to fundamentally transform the experience of cancer in our world:
Giving all people greater access to breakthrough ideas and novel treatments
Leveraging and expanding our capabilities as a trailblazing force in cancer prevention, research and patient care

Expertise unmatched in the region
Cancer is our sole focus. With 350 cancer researchers and clinicians, and 150-plus disease-specific oncologists, we are elevating standards in cancer care. We provide unrivaled expertise and experience in diagnosing and treating all forms of cancer, from common and complex to rare.
Working in an academic medical center setting, our nationally and internationally renowned investigators conduct pivotal research that propels science forward, leading to improvements in cancer prevention, diagnosis, treatment and survivorship. These intense efforts are crucial to our most important mission: to achieve the best possible outcome for every patient who trusts in our care.
As a testament to these endeavors, patients treated at an NCI-designated cancer center have a 25% greater chance of survival than patients treated at other cancer centers.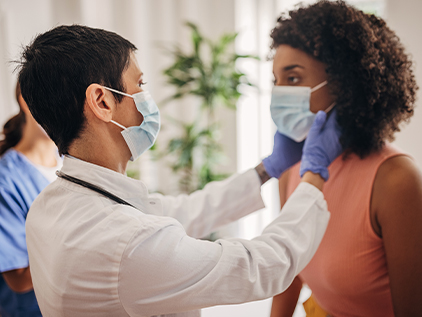 Discrimination Policy
The University of Kansas Cancer Center has zero tolerance for discrimination against any patient, visitor, provider or staff member in our health system community.
Learn more about our policy.
Touching lives around the globe
We treat patients from across the U.S. and around the globe at our 13 locations throughout the Kansas City metro. Physician collaboration makes this possible. We share information and foster strong connections with our patients' physicians throughout the Midwest, across the nation and beyond. This is essential to ensuring exceptional care and improved outcomes. Since 2012, The University of Kansas Cancer Center has diagnosed and treated patients from 19 countries and 50 states, in addition to Puerto Rico and the Virgin Islands.
At The University of Kansas Cancer Center, eliminating the devastation of cancer is profoundly personal. It is our life mission, a journey we have embarked on to prevent and conquer all cancers, now and for future generations.
From basic science, prevention and population health efforts to clinical trials and survivorship, our research drives innovation and new treatments. – Roy Jensen, MD

Vice Chancellor and Director, The University of Kansas Cancer Center