Skip Navigation
Patient and Visitor Guide
Family and friends are important to a patient's recovery, and visitors are welcome. Guidelines for visitors may vary based on patients' conditions and need for rest. Nurses can provide specific information.
Two visitors allowed with the following exceptions:
One visitor allowed during a patient's cancer exam appointment.
No visitors allowed during their cancer treatment/infusion appointment; check with staff as there may be an exception.
Any visitors who have a fever or other cold- or flu-like symptoms will not be allowed.
Other exceptions may apply.
Your cancer resources
We encourage you to be proactive about your treatment as soon as you are diagnosed. It will help you feel more in control of your situation, which is very important as you progress through your journey. That includes asking your care team questions, educating yourself as much as you choose about your type of cancer, and seeking fellowship from one of our cancer support groups.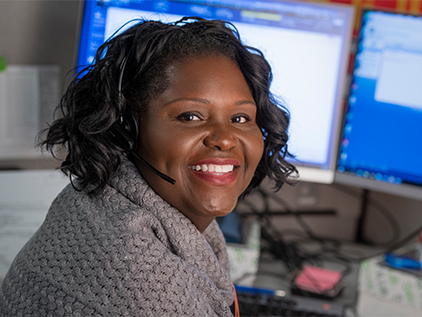 No one should face cancer alone
Our nurse navigators are here to help you navigate your cancer journey. From the first call through follow-ups, they're with you every step of the way.
Learn more
Related links