Skip Navigation
There are many ways to be a part of The University of Kansas Cancer Center's mission to conquer all cancers. Whether its donating tissue and blood samples or lending your voice to provide the patient perspective, your contributions can help us find better ways to prevent, diagnose and treat cancer.
The cancer center's patient research advocacy group, Patient and Investigator Voices Organizing Together (PIVOT) is one of the few cancer center patient advocacy networks in the U.S. that offers cancer survivors the opportunity to meet regularly with cancer center scientists. PIVOT members are able to share suggestions and ideas that can help research better meet patient needs and improve quality of life. If you are a cancer patient, survivor or co-survivor, your insights can help.
The cancer center's BioBank serves as a repository for human tissues and fluids. With just a simple and confidential blood draw, you can support researchers' study efforts.
Participate in a research study
A cancer experience is not required to take part in a study. For example, researchers are trying to find ways to reduce cancer risk. Learn more.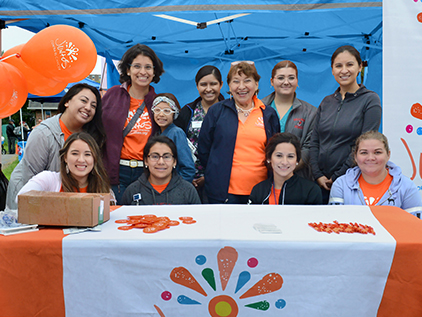 Outreach and education fill minority gap
The University of Kansas Cancer Center researchers partner with local Latino community members to diversify BioBank samples.

Learn more
Help us do more.
By supporting The University of Kansas Cancer Center, you help us reach more people and save more lives. Give to research or patient care.
Related links