Skip Navigation
Wall of Hope
The University of Kansas Cancer Center is working to end cancer. We invite you to share what hope means to you -- whether you're a cancer patient, a loved one or a caregiver.
Tell us what hope means to you. Your message will appear here to help others on a cancer journey.
I hope that my cousins will get to see me more and my family too. – A'Brianna

Kansas City
Cancer causes fear. The only thing stronger than fear is hope. – Janet

Independence, Missouri
Dear Friend, be hopeful and positive. Spend time with good friends and family. Accept help whenever you are offered. Reach out. Ask for help whenever you need it. Don't get upset when someone can't help you, but share your feelings without getting upset. – Ranela

Olathe, Kansas
Hope means seeing my grandkids graduate. And knowing my son, who is handicapped, is taken care of. It means quiet walks through my neighborhood with my husband holding my hand. – LaVada

Kansas City
Hope is seeing my daughter grow up! Hope is knowing I am doing everything I can do to live. Hope is changing my families' history of breast cancer. – Lori

Olathe, Kansas
Hope is knowing my grandmother and mother both beat breast cancer. My grandmother was 60 when diagnosed and lived to be 91 years old! Hope is part of taking care of yourself and allowing others to help you. God Bless. – Kathryn

Freeman, Missouri
Hope means living life free of disease and being able to fulfill your dream of watching your children and grandchildren grow. – Carla

Holt, Missouri
Hope means getting back to the fabulous 'very-ordinary days' that everyone takes for granted. An ordinary day with no worries, and just peace in your heart. Days when you can relax and enjoy each moment. – Miriam

Leawood, Kansas
H-aving O-thers P-ray E-veryday for you! Gives me hope! – Courtney

Marysville, Missouri
Hope means that I have cancer, but cancer does not have me. It means that I am doggedly determined everyday to get up, be grateful, and walk out of TPLL one day at a time. – JoDell

Bonner Springs, Kansas
Hope means never giving into the cancer in your body. My partner Bruce has survived 3 recurrences and 2 stem cell transplants and is now 5 years out and doing great, no signs of cancer. – Kirk

Kansas City
Hope means I will spend each of my days doing what makes other people happy and in turn myself. I hope for life. – Mary

Westwood, Kansas
Hope means that one day they will find a sure cure for all cancers. – Anonymous
Hope is believing in something I can't see or feel yet. Like my last bone marrow biopsy at year 5, which happened today! It is finished! – Teresa

Hays, Kansas
Hope means surviving one more day. Being able to thank God for my friends and family. – Tia

Kansas City
My hope is to survive my cancer with minimal sickness as soon as possible so that I may be here for my son and wonderful grandson. – Becky

DeSoto, Kansas
Hope means my mom will see me graduate high school in a few months. – Kennedy

Overland Park, Kansas
Hope is comfort and peace. Hope gives you something to hold onto. – Christy

Great Bend, Kansas
I will get another day to enjoy the beautiful sunshine during the day and sparkling stars and moon at night. – Anonymous
Hope means never giving up and embracing the ones around you in tough times. – Anonymous
I am the wife of David Shine Jr. He is receiving lung cancer treatment. I want to say that his treatment has been good so far. I am a 8-year breast cancer survivor. The two of us will continue to pray for cancer patients and families and to also see if they could come up with more help! – Michelle

Kansas
Hope: Gosh, that's a huge word to me now. Hope means I'm still on the right side of the dirt. It means I live to wake up to another day with my loving husband of 26 years and kisses and hugs from my sons and grandkids. Oh, and a new puppy I named Journey. : ) Remember Christ is the 'Big C' and cancer is the 'lil c.' – Debbie

Odessa, Missouri
Hope means having faith and never giving up. You never know what God has in store for you! – Mesa

Chetopa, Kansas
The University of Kansas Cancer Center has deepened my connection with hope and trust. Over time, as they and my wife Lila moved through and beyond her cancer, my trust grew and my hope soared. Trusting and hoping pushed despair further and further away. – Frank

Kansas City
Hope is positive energy from caring individuals who treat you with respect and kindness. – Lynn

Leavenworth, Kansas
Think good thoughts. Meditate, eat organic. Take care of yourself. I have a friend who was stage 3B. She is 10+ years out and doing great. – Deb

Kansas City
Hope that someday very soon a cure, or better yet, prevention of breast cancer will be found. Answers are found every day and I know HOPE is working! – Penny

Lee's Summit, Missouri
One year posttreatment for throat/neck cancer and I'm a new person. I'm enjoying life and taking on its challenges! So glad the caring staff of the cancer center was here to help me through it! – Phyllis

Merriam, Kansas
You can do this! Think of tomorrow and many more days to come! Plan a party! – Shirley

Leavenworth, Kansas
Hope means beating this disease and others also fighting and beating it. Mostly, hope means seeing my 15-year-old son graduate from high school, then college. Hope means courage! – Debra

Kansas City, Kansas
Be strong, live long. It's just a condition you're managing. Be strong, live long. A body is constantly changing. Be strong, live long, and don't let cancer ruin your life! – Jim

Kansas City, Kansas
Hope is God's promise that He shall renew our strength. Hope means that wonderful things are still possible and there are greater things beyond our belief still to come. – Grace

Kansas City, Kansas
Cancer can't win the battle when love, laughter and friends are on your side. – Nikki

Basehor, Kansas
Hope is trust and positive thoughts. I hope for good results through endurance and patience. – Dorothy

Kansas City
I hope my dreams come true to be a dentist; I am 5 years old. – D'Marcus

Kansas City
To any and everyone who is facing the challenge of having cancer: Don't give up. I've been there! My faith in God brought me through. I encourage you to take one day, one treatment, one visit and one bad situation at a time! Have faith! – Joyce

Kansas City
I have hope of sharing my life with my children, grandchildren and great-grandchildren. – Essie

Kansas City, Kansas
Knowing that God is Love. – Heather

Kansas
I hope I get to live my life until I'm over 80; that's what hope is to me! – Ta'vona

Kansas City
Hope is in God. His plans for each of us make us strong, and others gain strength through our hope. – Virginia

Independence, Missouri
My hope is for a tobacco-free world where millions of lives will be spared each year from lung cancer. – Laura

East Hartford, Connecticut
Caring, tolerance and patience. – Kelly and Scott

Kansas City
Kudos to The University of Kansas Cancer Center for their treatment of prostate cancer! You are helping a dear friend ... that is HOPE! – Sonya

Kansas City
May God bless you and keep you feeling good and knowing there are people out here who care for you and want you to keep going on with life and enjoy it as long as you have it. – Lovine

Tulsa, Oklahoma
Hope: Today is our 26th wedding anniversary ❤ and hope means making it to our 50th wedding anniversary. – Chris

Odessa, Missouri
Hope is everything. – Kathy
Keep hope alive. – Jon
I will journey through life with hope and dreams. It is better than merely arriving at my destination. – Mike

Overland Park, Kansas
Cure all! – Margaret
Hope means I could see next year, or next decade. – Jay

Kansas City, Missouri
Let's all find a cure! – Mark
I think of hope as my constant companion. As long as I have hope, I'm never alone. – Sarah

Blue Springs, Missouri
Hope means that I get to keep swingin' for the fences. – Crystal

Shawnee, Kansas
May the spirit of hope be with you always. – Kim
Hope means my husband and I will celebrate our 50th wedding anniversary. – May
Hope is the energy of my life, whatever my health, whatever my condition. – Alan

Overland Park, Kansas
Hope means a whole lot more wishbones and falling stars and love-me-love-me-nots. – Carrington

Kansas City, Missouri
Celebrate hope. – Kayla
My hope begins in the dark, in the morning before I rise. It is stubborn and unyielding. Hope is my nagging but lovable sister who never leaves my side. – Peggy

Prairie Village, Kansas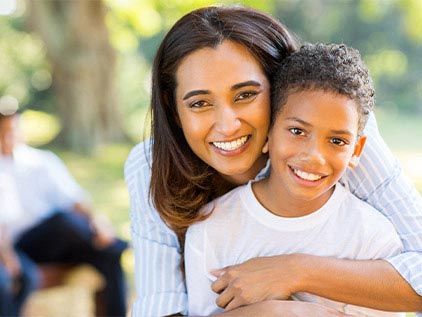 Saving lives and making a difference
We are committed to saving lives. And while our cancer center has earned many achievements, the health of our patients is our greatest accomplishment.
Read their stories
Related links