Skip Navigation
Missys' Boutique
For many cancer patients and survivors, changes in appearance caused by treatments or surgery pose physical and emotional obstacles to recovery.
An accredited cancer appearance center, Missys' Boutique® helps overcome those obstacles with spirit and style. Opened in June 2010, the boutique's mission is to help cancer patients and survivors throughout the region restore their dignity, build their self-confidence and reclaim their self-image. The facility is Medicare-approved.
One-stop shopping for cancer patients
Conveniently located on the main level of the Richard and Annette Bloch Cancer Care Pavilion in Westwood, Kansas, Missys' Boutique features inviting retail space, a salon area and a private fitting room. In a comfortable setting, cancer patients and survivors can consult with a licensed professional, receive services and select products created just for them.
Breast forms, postsurgery bras and camisoles fitted by a certified fitter
Wig selection, fitting and styling by a licensed cosmetologist
Turbans, caps, hats and scarves
Postmastectomy garments
Lymphedema sleeves
Lingerie
Cancer awareness clothing and jewelry
Jewelry, handbags and other accessories
Skin care products
Gifts, books, toys and greeting cards
Scarf tying (call for an appointment)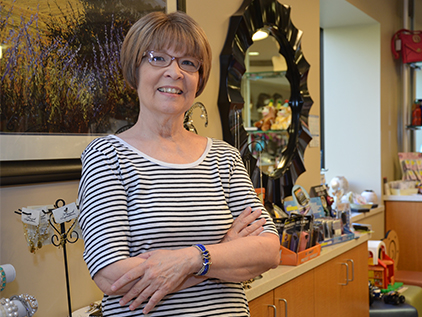 Missys' Boutique: An oasis away
Susan McCall found Missys' Boutique to be an oasis away from her treatment and worries about her breast cancer diagnosis.
Susan's story
Insurance coverage
Health insurance may cover the cost of a wig, prosthesis or postmastectomy garment – with a doctor's prescription. For details on coverage, contact your insurance provider before your appointment. We are happy to submit the paperwork to your insurance company for coverage; a doctor's prescription for the item(s) is required. Please bring it to your fitting appointment.
Make a gift
With your tax deductible gift, you can become part of the family of donors supporting Missys' Boutique, its patients and its mission.
Donate by mail
To make a tax deductible gift, you may either go online to kansashealthsystem.com/giving, call 913-588-2800 or mail a check payable to The University of Kansas Health System with Missys' Boutique Appearance Center or Patient in Need Fund written in the memo field.

Address it to:
Fund Development
The University of Kansas Health System
2330 Shawnee Mission Pkwy., Suite 302
Westwood, KS 66205
Donate by credit card
To donate by credit card, or for more information about giving opportunities, call Fund Development at 913-588-2800funddevelopment@kumc.edu.
. Or contact
Donate online
To donate online, visit our giving website. On the form under Donation Information, click the drop down arrow next to Designation to either select "Patients In Need" or "Other." Selecting Other will allow you to type in "Missys' Boutique Fund."
Volunteer
Missys' Boutique is staffed primarily by volunteers. To learn more about this rewarding and fun opportunity, call 913-588-6560
.
Related links