Skip Navigation
Personalized Cancer Guides
Personalized Cancer Guides
With a cancer diagnosis, patients and their loved ones are often at a loss, met with unfamiliar terms, numerous appointments and lots of information.
At The University of Kansas Cancer Center, we empower patients and encourage them to be proactive about their treatment. One way we accomplish this is by providing newly diagnosed patients with a set of personalized cancer appointment, treatment and survivorship guides. Through these informative guides, we help patients navigate their diagnosis, treatment and survivorship and give them a sense of control at a crucial time.
Custom mobile app
When you receive your treatment guide, you will also be introduced to your personal mobile and tablet app. The app is unique to you and includes your treatment plan specifics.
It also provides links to resources to assist you during treatment, allows you to track your medications and symptoms, and connects you with your nurse or nurse navigator. If your treatment plan changes, the new information is immediately available on your app.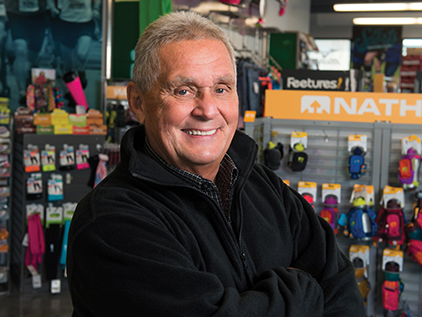 Making a difference
When Michael Farmer was diagnosed with stage 3 colon cancer, he decided to take part in a clinical trial that ultimately helped him and others.
Michael's story
Request your appointment today.
To make an appointment at The University of Kansas Cancer Center, call 913-588-1227.
Related links