Skip Navigation
At The University of Kansas Cancer Center, ending cancer is personal. It's our mission. We are on a journey to cure all cancers, now and for all future generations. As 1 of only 54 National Cancer Institute (NCI)-designated comprehensive cancer centers in the U.S., we are leading the way in research and collaboration. No other cancer program in the region can match the depth and breadth of our 350 cancer researchers and clinicians. As an NCI-designated comprehensive cancer center, we have extensive research capabilities that pioneer improved cancer treatments, prevention and diagnosis. From basic scientists to physicians, our team works together to bring discoveries made at the research bench to our patients' beside.
We aim to disseminate our cancer discoveries to our community through unique communications, including our groundbreaking annual research highlights publication and award-winning Facebook Live web series, Bench to Bedside. These vehicles give us the opportunity to speak directly to patients, caregivers, survivors, co-survivors and community members and share exactly how The University of Kansas Cancer Center is changing and saving lives with unprecedented research and cancer discoveries.

NCI Designation
Our cancer center is 1 of 54 NCI-designated comprehensive cancer centers nationwide.

Clinical Trials
We are a pioneer in new clinical trial research that leads to innovative treatments.

Still the Best
Our hospital continues to rank as the best in Kansas City and in Kansas according to U.S. News & World Report.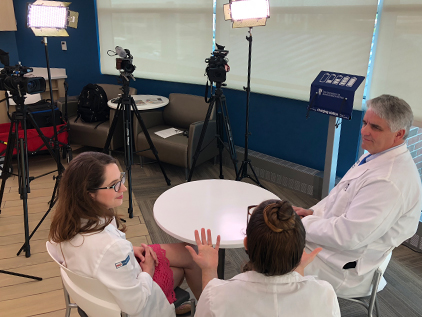 Bench to Bedside
The cancer center's web series, Bench to Bedside, airs live on Facebook weekly.
See our videos
Support Within Reach.
Join us in our quest to conquer all cancers. Support Within Reach to advance cancer research and care in our community.
Related links