Skip Navigation
Brandmeyer Resource Center
Brandmeyer Patient Resource Center
Our Brandmeyer Patient Resource Center is a comfortable place to learn more about specific types of cancer, treatments, clinical trials and other cancer-related matters. Located on Level 2 of the Richard and Annette Bloch Cancer Care Pavilion, the resource center's patient educator and volunteers provide information and support to you, your family and community residents.
The Brandmeyer Patient Resource Center provides educational materials and presentations to increase your understanding of cancer treatment and care. Patients receiving chemotherapy can get comfort items such as hats and padded seat belt covers.
Patient educator connects the dots
One of your most important resources is the center's patient educator. This experienced oncology nurse helps you connect the dots to meet your practical needs. This includes making appointments, using MyChart, and accessing resources within and outside of the Brandmeyer center. Trained volunteers work with our patient educator to help you find what you need. Whenever you visit the center, you can talk to the patient educator or a volunteer.
Materials and information
You'll find booklets and other printed information for every type of cancer. If it's not on our shelves, we'll order it for you at no charge. In addition to specific cancer information, the center's staff can help you make the most of our extensive resources. These include:
General and disease-specific books and brochures
Quiet space for reading or relaxing
Computer and internet access
Conference table
Human anatomy model
Lending library of books
Materials in all languages
MyChart sign-up
Phone charging station
Tablets or iPads you can use in the center or during your chemotherapy session
Support group information
Information on symptom management
Information about current and upcoming clinical research trials
Cancer information online
The Brandmeyer Patient Resource Center features a computer station and iPads for personal use or to research the latest cancer information online on nationally recognized cancer websites, as well as those focused on therapies, inspiration, humor and other topics. If you have your own device, such as a phone or tablet, you can connect through the hospital's free wireless network. Our patient advocate and volunteers are happy to assist you.
Support groups
The Brandmeyer Patient Resource Center nurse can connect patients, families and caregivers to a variety of classes and support groups within the cancer center, Turning Point and the community. You'll be able to share personal experiences and knowledge and learn about cancer from others who have had similar experiences. The center also provides information on support groups sponsored by community organizations. For more information about support groups, call 913-588-0130.
Recognized for quality
The University of Kansas Cancer Center is among a select few in the country, and the region's first, to earn National Cancer Institute designation. U.S. News & World Report consistently ranks our cancer care among the top in the nation.
A gift from the Brandmeyers
This valuable educational center is named in honor of a significant financial gift from the Joe and Jeanne Brandmeyer family and their company, Enturia, a leading developer of medical products.
Like many people, members of the Brandmeyer family have been touched by cancer. Through these experiences, they came to appreciate the life-changing impact of the disease and the need to understand it.
"Our family is so honored to be able to create an endowment that will assist other families as they navigate through the labyrinth of information out there and struggle to understand what is happening to them, or someone they love." – Jeanne Brandmeyer
For more information
To learn more about the Brandmeyer Patient Resource Center, call 913-588-0131.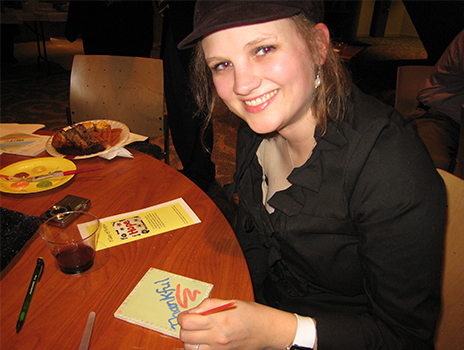 Tiles of Hope
Outpatient blood and marrow transplant patients can paint ceramic Tiles of Hope representing their emotions on this very personal journey.
Learn more
Request your appointment today.
To make an appointment at The University of Kansas Cancer Center, call 913-588-1227.
Related links