Skip Navigation
Everything we know about cancer, and how to treat and prevent it, stems from research. At The University of Kansas Cancer Center, scientists are looking at cancer from many perspectives – deepening our understanding of cancer's biology and moving findings into the clinic, identifying cancer prevention strategies and improving ways to support patients beyond treatment.
As the only National Cancer Institute (NCI)-designated comprehensive cancer center in the region, and 1 of only 53 in the nation, The University of Kansas Cancer Center aims to fundamentally transform the cancer care experience – to give all people in our region greater access to breakthrough ideas and novel treatments. The infrastructure of our research arm, which was named the Kansas Masonic Cancer Research Institute after a generous donation from the Kansas Masons, is primarily supported by the NCI Cancer Center Support Grant.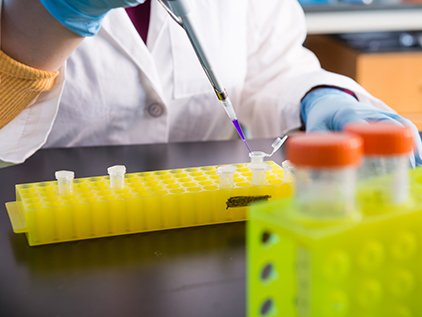 Why is cancer research important?
Cancer death rates have dropped, but there is more to do. Over the next decade, the number of cancer diagnoses are predicted to increase 45-50%.


Learn more
The cancer center's catchment, or service, area encompasses the entire state of Kansas and western Missouri. Our researchers focus on the cancers most affecting our communities, partnering with the cancer center's outreach arm, the Masonic Cancer Alliance, to advance efforts that target cancer disparities in the area's rural and underserved populations.
Exploring new frontiers
Groundbreaking concepts such as precision medicine, which tailors treatment to your unique genetic code, and immunotherapy, which harnesses the power of the immune system to fight cancer cells, are also an area of focus.
For example, with the support of a grant from the National Institutes of Health, researchers across the cancer center and the University of Kansas Medical Center are building on ways to utilize precision medicine in a variety of diseases. Called the Kansas Institute for Precision Medicine Center of Biomedical Research Excellence, and led by cancer center deputy director Andrew Godwin, PhD, junior investigators, primarily physician-scientists, partner with mentors to advance their ideas and successfully compete for federal funding.
Interested in becoming a cancer center member?
To apply, click here. Applications are accepted throughout the year. Contact Lisa Harlan-Williams at lharlan-williams@kumc.edu for more information regarding membership.