Skip Navigation
Genetic Counseling & Testing
Prevention and Risk Reduction
Genetic Counseling and Testing
Understanding your risk factors for cancer allows you to make the most informed decisions about your healthcare. Through genetic counseling, you can learn the types of cancer you may be at risk for developing. Genetic testing provides information about your risk factors for specific hereditary types of cancer, which include:
Genetic counselors at The University of Kansas Cancer Center, a National Cancer Institute-designated cancer center, are board-certified by the American Board of Genetic Counseling. They follow the gold-standard guidelines set by the National Comprehensive Cancer Network.
Your genetic counseling visit
It's important to visit with a genetic counselor before you have any genetic tests. You can bring immediate family members with you to ask questions and take notes. At your free counseling session, your counselor will:
Review up to 3 generations of your family history
Discuss your and your children's risk factors for cancer
Explain your rights under laws such as the Genetic Information Nondiscrimination Act of 2008
Discuss the pros and cons of genetic testing
Help you navigate through insurance
Informed consent for testing
Genetic testing is your choice and yours alone. Informed consent means knowing as much as possible before you take that step. We make sure you are aware of and approve all the genes we are testing for you. We also discuss what it means for you and your children if you have a positive test result.
What genetic testing can reveal
Testing can help find genetic changes that can increase your risk for cancer. Read more.
Resources
Make an appointment
To make a genetic counseling appointment, call 913-588-5568.
Learn more about genetic testing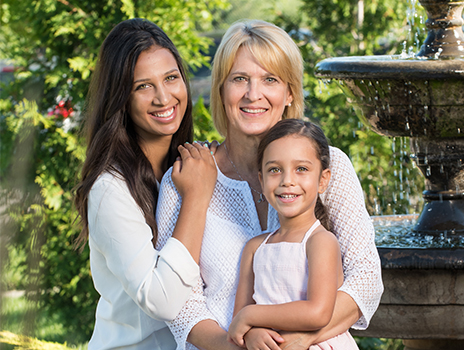 Fighting for their future
Through breast cancer genetic testing, Lana Blagg and her daughter Taylor McCord learned they carried the genetic mutation BRCA1.
Read more
Related links