Skip Navigation
Outreach and Community Initiatives
Community Advisory Board
A key pillar in The University of Kansas Cancer Center's designation by the National Cancer Institute is direct engagement with communities in our catchment area. The Community Advisory Board was established to help facilitate a high level of communication between community members, organizations and cancer center leadership. Board members represent the voice of the communities we serve and are partners in the cancer center's quest to conquer all cancers.
The board is comprised of representatives from the diverse geographic areas, ethnicities and lifestyles of Kansas and western Missouri. It informs The University of Kansas Cancer Center's strategic plan, research priorities, outreach efforts, education, community engagement and shared understanding of community priorities and concerns.
Responsibilities
Share and review community priorities and concerns
Update The University of Kansas Cancer Center on current initiatives within population-specific and network boards
Assist with development of the cancer center's strategic plan
Help evaluate outreach efforts
Assist with understanding catchment area disparities
Identify and support the cancer center's efforts to engage populations in the catchment area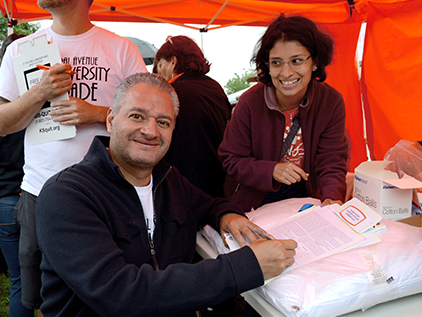 Community-tailored research
We look at new ways to prevent and treat cancer, with a focus on high-risk and underserved communities.
Programs
Advocacy
Highlights
Support Within Reach.
Join us in our quest to conquer all cancers. Support Within Reach to advance cancer research and care in our community.
Related links