Skip Navigation
For Professionals & Partners
For Professionals and Partners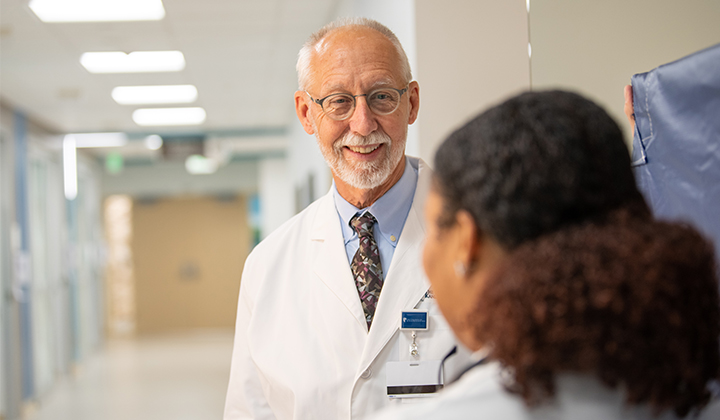 At any given time, at least 175 clinical trials are open for enrollment at The University of Kansas Cancer Center. More than 135 clinical trial staff members support the vision of providing a clinical trial opportunity to every one of our patients.
The strength and altruism of our patient partners is inspiring. Their journeys breathe hope into better treatment outcomes for the future. Being a part of that is what I enjoy most about being here. –Team member, clinical trials team
We offer
clinical trials
across the entire cancer continuum, from prevention through survivorship to population science-based trials. Phase I, or early phase, clinical trials are offered at the cancer center's state-of-the-art Clinical Research Center. Since 2012, the cancer center has activated more than 125 early phase trials.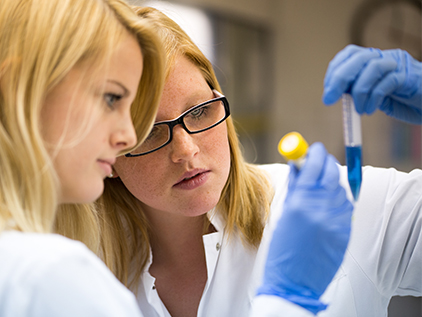 Clinical Trials Office
The cancer center's Clinical Trials Office provides comprehensive support services to assure each step of the study follows regulations.
Clinical trials office
Referring physicians
We partner with referring physicians to give patients access to the latest clinical trials while maintaining continuity in care.
If you believe your patient may benefit from a clinical trial, and would like to schedule them for clinical trial consultation, please contact the cancer center's clinical trial navigator at 913-588-3671 or CC_Scheduling@kumc.edu.
Search available clinical trials.
For referral information not pertaining to clinical trials, visit our referral page.
A new mobile application developed by KU Cancer Center makes it easier for physicians to find clinical trial opportunities for their patients. Learn more.
Industry partners
As the only National Cancer Institute-designated cancer center in the region, with a keen focus on the needs of its catchment area, we work hard to ensure the most cutting-edge treatment options are available to our patients. To fulfill this commitment to our patients as well as advance the field of cancer treatment, The University of Kansas Cancer Center regularly collaborates with industry leaders to develop new drugs.
Partner with us
We welcome new opportunities to collaborate on a clinical trial. Email KUCCNewOps@kumc.edu to learn more.

Robust portfolio
175+ clinical trials currently open for enrollment

Multidisciplinary team
More than 135 clinical trial staff members

Early phase trial leaders
125+ early phase trials activated in last 7 years
Masonic Cancer Alliance
The cancer center's outreach network, the Masonic Cancer Alliance (MCA), is a membership-based organization that partners with cancer research, care and support professionals to advance the quality and accessibility of cancer prevention, detection, treatment and survivorship throughout our region.
MCA members interested in offering clinical trials must complete a site visit and assessment of their clinical trials infrastructure and staffing before enrolling patients. MCA Clinical Research members are eligible to enroll patients at their location in SWOG-endorsed trials. Select investigator-initiated trials (IITs) are available to members based on their clinical research capacity. Learn more about the
Masonic Cancer Alliance
.
Related links