Skip Navigation
Your Care Team
At The University of Kansas Cancer Center, we understand that a cancer diagnosis affects every aspect of your life. We provide a diverse team of specialists who walk with you through every step of your journey to support you, not just treat your cancer.
Our team provides compassionate and comprehensive cancer care from diagnosis through survivorship and beyond. Each cancer patient and each cancer we treat is different. With that in mind, we address the entire toll cancer takes on the mind, body and spirit because research shows this approach to cancer treatment provides better patient outcomes.
Your multidisciplinary cancer care team will include disease-specific nurse navigators, medical oncologists, surgical oncologists, radiation oncologists, pathologists and other experts to support your physical, emotional and spiritual well-being. Together, the team will coordinate your care to ensure you receive the combination of treatments best suited to you and your particular type of disease.
Your team of disease-specific specialists may include:
Specialized doctors and medical providers
Medical oncologist
Your medical oncologist is the chief coordinating physician for cancer care throughout your journey, working with the rest of the care team to effectively identify all possible treatment options, including clinical trials.
Pathologist
Pathologists are physicians who are trained to investigate the cause and effect of diseases or injuries. They do so mainly through the analysis of organ, tissue, blood or body fluid samples. Clinical pathologists diagnose disease based mainly on the lab analyses of blood, urine and other body fluids.
Radiologist
Radiologists are trained in reading and interpreting different kinds of imaging studies, including X-rays, CT scans, MRIs, ultrasounds and other imaging tests. It is important to quickly and correctly diagnose conditions because each requires a different evaluation and treatment.
Radiation oncologist
Radiation oncologists specialize in the precise delivery of radiation for the treatment of cancer. While there are different types of radiation, the goal of the radiation oncologist is to kill the cancer cells while sparing surrounding healthy tissue as much as possible. Your radiation oncologist will discuss specific treatment details with you, as well as strategies to minimize side effects.
Surgical oncologists
Surgical oncologists specialize in cancer surgery, which often is integral to cancer treatment. The surgical oncologist develops a plan for your surgery, performs the operation and oversees your recuperative care.
Nurse navigators
Nurse navigators are your first point of contact. They make sure everything is ready before you see a specialist, including collecting medical record information for the doctor's analysis, getting orders for additional tests when needed and identifying support services. Nurse navigators also connect you with community resources to help with any issues you may have. For instance, they can help if you are traveling from a long distance to connect with lodging options, and they can schedule an appointment with a nutritionist. They provide emotional support and clinical expertise, as well.
Support services
Our support services staff includes dietitians, financial counselors, palliative care providers, psychologists, social workers, a spiritual care specialist, a physiatrist (specialist in cancer rehabilitation), a patient educator at Brandmeyer Patient Resource Center and other specialists to support the specific needs of cancer survivors and their family members. This team helps identify challenges you and your caregivers face and provides tools to manage these challenges, whether they are physical, nutritional, spiritual, social or psychological.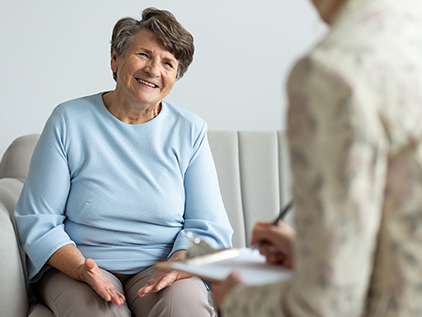 Treating cancer with more than medicine
Our approach to cancer care includes support services for the mind, body and spirit. Research shows this approach provides better outcomes.
Whole person care
You are not alone.
From diagnosis through treatment and recovery, our nurse navigators are here to help.
Call 913-588-3671 to speak with a nurse navigator.
Related links