Skip Navigation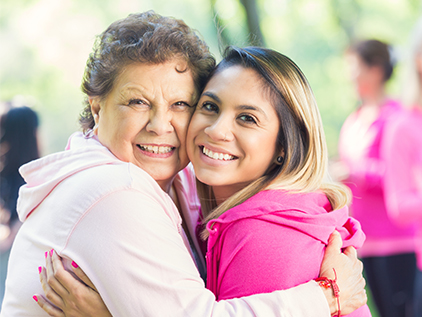 Schedule your mammogram online
We find early-stage breast cancer at a rate that exceeds the national benchmark.
Schedule now
Breast cancer facts
In the United States, a woman receives a breast cancer diagnosis every 2 minutes. In fact, 1 out of every 8 women will be diagnosed with breast cancer in her lifetime. Female breast cancer is most frequently diagnosed among women aged 55-64.

Women aren't alone in this type of cancer – breast cancer affects men as well. About 2,470 new cases of invasive breast cancer will be diagnosed in men this year. Still, the incidence of male breast cancer – at about 1 in 1,000 – is much lower than it is among women.

Your risk for breast cancer can change over time, due to factors such as aging or lifestyle. Simply being female is the primary risk factor for developing the disease. Other risk factors include:

Aging
Inherited genetic mutations, such as BRCA1 and BRCA2
Family history of breast cancer
Starting menstrual cycle before age 12
Personal history of breast cancer
Race and ethnicity
Density of breast tissue
History of fibroids or other benign breast conditions

At The University of Kansas Cancer Center, we find early-stage breast cancer at a rate that exceeds the national benchmark. Our breast cancer specialists are nationally recognized leaders in the field. As an NCI-designated cancer center, we take an aggressive approach to breast cancer prevention, diagnosis and treatment. This means we apply the same level of expertise to identify breast cancer that we do to treat it.

Now is the perfect time to begin managing your breast health. Learn the facts and risk factors, such as genetic and family history, associated with breast cancer and take a proactive approach to understanding your risk for developing the disease.

Have your physician perform an annual clinical breast exam.
Talk with your doctor to gain breast self-awareness and determine the most appropriate ongoing care.
Learn about the different breast imaging early detection tools and what is right for you.
Get screened. The University of Kansas Cancer Center recommends annual mammogram screening start at age 40.
Talk with the women and men in your life about regular breast care.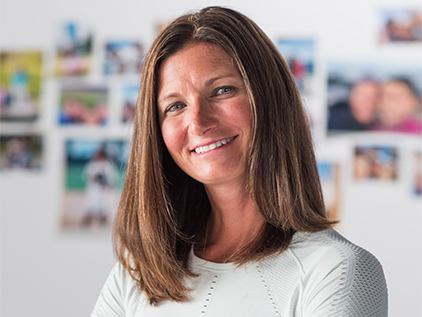 Advocating for awareness
Mila Ellsworth is a fierce competitor. But in 2015, Mila faced an opponent that would test her in ways she never thought possible.


Mila's story
Related links