Skip Navigation
Travel and Lodging
If you are traveling to The University of Kansas Cancer Center for cancer care, we want your trip to Kansas City to be as easy as possible.
We understand how overwhelming it can be to plan for a trip to an unfamiliar place while dealing with a cancer diagnosis. That's why we provide all the information you need about travel services as well as transportation and lodging options.
We are located in the center of the U.S., which makes us easily accessible by interstate, highway, rail and air travel. No matter where you may be coming from, you can be here in a matter of hours. To assist you and your family, we offer a complimentary concierge service and travel guide.
Concierge service
Our travel consultant and concierge assistant will help you with lodging, transportation and other amenities. Call weekdays 8 a.m.-5 p.m., Central time. When you call, be sure to request our travel guide.
Toll-free 844-323-1227
International callers, dial 00-1-913-588-1227
Lodging
If you live outside the Kansas City area, you may need to make short- or long-term lodging arrangements.
Hotels
Holiday Inn Express
3932 Rainbow Blvd.
Kansas City, KS 66103
913-236-8700
This hotel is adjacent to The University of Kansas Hospital Main Campus.
For an extensive list of hotel options, request our travel guide at 844-323-1227.
Community lodging options
For assistance with booking rooms, call 913-588-0130.
ACS Hope Lodge
1120 Pennsylvania Ave.
Kansas City, MO 64105
Phone: 816-218-7200
Fax: 816-842-5754
The American Cancer Society Hope Lodge program provides a free home away from home for cancer patients and their caregivers. More than just a roof over their heads, it's a nurturing community that helps patients access the care they need.
Bear Paws (1-level lodging)
2501 W. 43rd Ave.
Kansas City, KS 66103
Contact Kit and Claudette Patterson
913-722-9725 Business Line
913-515-0522 or 913-515-0834
Guests are welcome to use kitchen facilities, free Wi-Fi and bring their own food. Accepts Visa®, Mastercard® and Discover®.
Friendship Inn
4146 State Line Road
Kansas City, KS 66103
816-506-6339
This home away from home offers temporary lodging, free Wi-Fi, laundry and kitchen facilities. Call the Friendship Inn for details and to make a reservation.
Our Saviour's Hospitality House
4126 Francis St.
Kansas City, KS 66103
913-236-6228
Ronald McDonald House Charities of Kansas City
2502 Cherry St.
Kansas City, MO 64108
816-842-8321
This facility provides temporary lodging and a supportive environment for families of children age 18 or younger who live more than 50 miles from the hospital.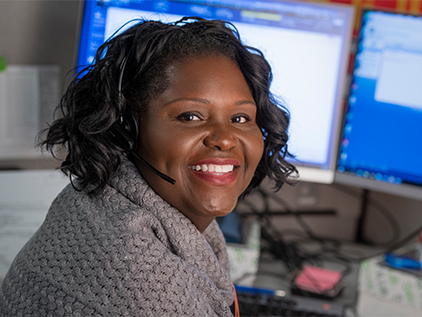 No one should face cancer alone
Our nurse navigators are here to help you navigate your cancer journey. From the first call through follow-ups, they're with you every step of the way.
Learn more
Your first choice for a second opinion.
Having confidence in your diagnosis and treatment is critical when you're faced with the possibility of cancer. Call 913-588-1227 for a second opinion.
Related links