Skip Navigation
Faculty and staff of The University of Kansas Cancer Center are provided a variety of opportunities for professional development and assistance with their research proposals.
Grants Development Office
The Grants Development Office at The University of Kansas Cancer Center facilitates the development of competitive grant applications in cancer research by assisting University of Kansas Medical Center faculty and researchers in the proposal development and submission processes.
Research Institute
The University of Kansas Medical Center Research Institute promotes and supports medical research and faculty invention disclosures.
Established by the University of Kansas Medical Center in 1992, the research institute administers federally and privately funded research projects and clinical trials within the medical center with a major objective of enhancing the research capability of medical center faculty for the benefit of the public.
Frontiers
Frontiers: University of Kansas Clinical and Translational Science Institute (KU CTSI) accelerates research by connecting scientists to resources; facilitating collaboration among researchers, communities and institutions; and offering training.
Frontiers transcends disciplines to seek innovation and improvement in healthcare by supporting the researchers of today and tomorrow. Supported by a 5-year, $25 million grant from the National Center for Advancing Translational Sciences of the National Institutes of Health, Frontiers is part of a network of more than 50 hubs nationwide that work to improve the translational research process.
School of Medicine Faculty Affairs and Development
The University of Kansas Medical Center Office of Faculty Affairs provides faculty the timely, important and helpful support necessary to assure their success on the medical center campus. The office provides services across all three schools (Health Professions, Medicine and Nursing) to all faculty members at the Kansas City, Wichita and Salina campuses.
This office offers many services to faculty, including support for faculty appointments, coordination of faculty paperwork and records, assistance with the promotion and tenure process, and facilitation of several faculty awards. Additionally, the Office of Faculty Affairs supports the medical center's Faculty Assembly, the faculty governing body representing each of the 3 schools.
Continuing Education and Professional Development
The University of Kansas Medical Center Continuing Education and Professional Development program is Kansas' leading provider of nationally accredited educational programs directly related to the top practice concerns of physicians. With more than a century of pioneering leadership in continuing medical education, the focus remains on progressing medical knowledge to improve practice performance, patient outcomes and interprofessional healthcare delivery. Resources offered include conferences and events, continuing education, event planning and accreditation, grand rounds, affiliations and community engagement.
KUMC Pipeline for Academic Training in Healthcare and STEMM (K-PATHS)
Programs are available at all levels to learn more about health care, research, science, or administration. Learn more.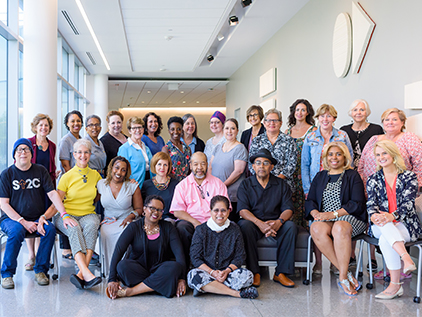 PIVOT
Learn about Patient Investigator Voices Working Together (PIVOT), our patient research advocacy initiative that's one of the few in the country.
Learn more
Interested in becoming a cancer center member?
To apply, click here. Applications are accepted throughout the year. Contact Lisa Harlan-Williams at lharlan-williams@kumc.edu for more information regarding membership.
Related links