Skip Navigation
Richard and Annette Bloch Cancer Care Pavilion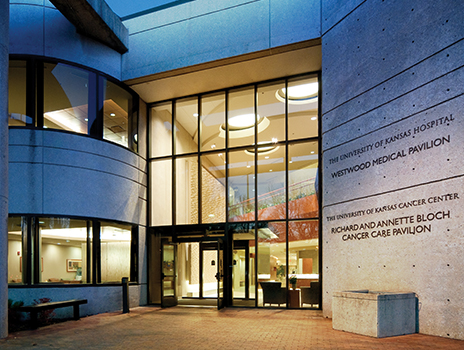 Location
1. Richard and Annette Bloch Cancer Care Pavilion

2650 Shawnee Mission Pkwy.
Westwood, KS 66205

Mon

7 a.m. - 7 p.m.

Tues

7 a.m. - 7 p.m.

Wed

7 a.m. - 7 p.m.

Thur

7 a.m. - 7 p.m.

Fri

7 a.m. - 7 p.m.

Sat

8 a.m. - 2 p.m.

Sun

8 a.m. - 12 p.m.

HOL

Closed -
Directions & Parking
We are located at the northeast corner of Shawnee Mission Parkway and Belinder Road. Complimentary parking is available in our garage. Use the Belinder Road entrance for access. Convenient valet parking at the entrance is available Monday-Friday, 7 a.m.-5 p.m., for patients who need it most.
The parking garage entrance is just off Belinder Road. The first 2 levels of our parking garage, P2 (orange level) and P3 (green level), are reserved for patient parking. Additional parking is on P5. All garage parking is free.
To enter the cancer center from the parking garage, take the elevator to Level 2, which is the main level. Visit the Information Desk at the west end of the lobby for directions to your appointment.
If you require wheelchair assistance from the garage, call us at 913-945-5713 or 913-945-5712 and we will arrange to meet you at your car once you have parked in the garage.
Handicapped parking spaces are available on the west side of the pavilion. The lane near the entrance at the west side of the building is for dropping off and picking up patients only.
Services & Amenities
Each of the 3 levels of the cancer care pavilion is designed to accommodate patient needs.
Level 1
Breast imaging
Breast cancer prevention
Breast cancer survivorship
Diagnostic imaging
Patient exam rooms
Parkway Café
Level 2
Information Desk
Patient pharmacy
Patient exam rooms
Laboratory testing
Brandmeyer Patient Resource Center
The Garden of Infinite Possibilities (outdoor area)
Missys' Boutique® accredited appearance center and retail shop
Westwood Internal Medicine
Level 3
Blood and marrow transplant
Chemotherapy treatment rooms
Laboratory testing
Specialty Clinics
Blood and Marrow Transplant
New patients: 913-588-9187 | Fax 913-588-8738
BMT Outpatient Clinic
913-588-9821 | Fax 913-588-9186
Breast Cancer Prevention and Survivorship
913-588-3666 | Fax 913-588-3648