Skip Navigation
University of Kansas Clinical Research Center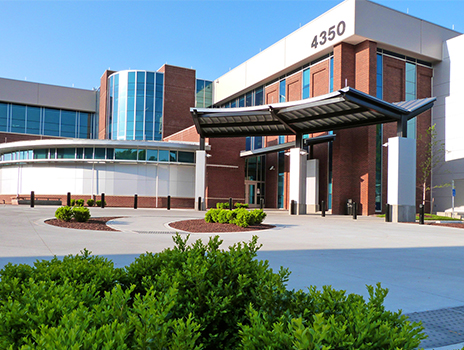 Location
1. Clinical Research Center

Mon

8 a.m. - 4:30 p.m.

Tues

8 a.m. - 4:30 p.m.

Wed

8 a.m. - 4:30 p.m.

Thur

8 a.m. - 4:30 p.m.

Fri

8 a.m. - 4:30 p.m.

Sat

Closed -

Sun

Closed -

HOL

Closed -
About the CRC
Designed unlike any other research facility in the country, the University of Kansas Clinical Research Center has state-of-the-art features to best accommodate clinical trial participants and researchers. All medical and nursing staff are trained in oncology and clinical trial patient care. The new center provides a central location to enhance collaboration between researchers and clinical staff caring for participants.
The building conveniently houses all clinical research functions formerly spread across multiple locations. Bio analytical lab and clinical lab facilities are on site for proper specimen management, a vitally important element in the effort to cure cancer.
Designed to facilitate promising new drugs from the lab to the clinic, the center offers new options to community physicians and their patients who may have exhausted treatment options elsewhere.
Directions & Parking
Take I-35 to the 7th Street Trafficway/Rainbow Boulevard exit. Turn south onto 7th Street. 7th Street becomes Rainbow Boulevard at Southwest Boulevard. Travel 2.5 miles south on Rainbow to Shawnee Mission Parkway. Turn right/west onto Shawnee Mission Parkway and travel to W. 55th Street. Turn right on W. 55th and travel to the second drive on the left. Turn left and continue to the first building on the right.
Services & Amenities
Services:
Hematology clinics
Hematology clinical trials
Medical oncology clinics
Oncology clinical trials
Level 2:
Registration and information desk
Patient exam area
Checkout desk
Patient treatment area
Pharmacy (for on-site patient care and clinical trial medications)
Vending machines
Level 3: Noncancer clinical trials coordinated by the Frontier Research Center