August 18, 2020
This September marks one year until The University of Kansas Cancer Center submits its application for National Cancer Institute (NCI) Comprehensive designation. This level of designation is the most coveted distinction in cancer, reserved for only the best centers. Comprehensive cancer centers are recognized for their significant depth and breadth in basic, clinical and translational research, with a clear focus on the cancers most affecting their communities.
Comprehensive designation can't be achieved without the support of our community. To help spread awareness and boost support, the cancer center launched Within Reach: The Quest to Conquer All Cancers. At the heart of the campaign is our advocates. Quest Action Team (A Team) members understand the vital importance of achieving NCI Comprehensive designation and how it will improve the health and economy of our region.
A Team member Graham Stark jumped at the chance to join the movement. He explains why he cares about NCI Comprehensive designation and what it means for our region.
Why is NCI designation important for your community and the broader region?
Outside of a few years living in Chicago after school, I have spent most of my life in and around the Kansas City area. Over the last decade, our community has seen growth in many areas, and that includes the continued successes of the University of Kansas Medical Center and The University of Kansas Health System. Having gone through the experience of seeing a member of my immediate family treated at The University of Kansas Cancer Center, it was never lost on me how lucky we were to receive such a high level of care without having to move to another city. Receiving Comprehensive designation from the National Cancer Institute (NCI) will provide an added layer to the world-class research and care the cancer center provides to our metro and surrounding communities.
How are you helping spread the word about the cancer center's quest for NCI Comprehensive designation?
I have reached out to coworkers, civic organizations and friends to provide information about KU Cancer Center's endeavor to achieve NCI Comprehensive designation. This been a bit more difficult as of late since we are physical distancing to combat the spread of COVID-19, but is also brings the opportunity to reach out to these individuals and groups via digital initiatives to showcase new online content of the cancer center.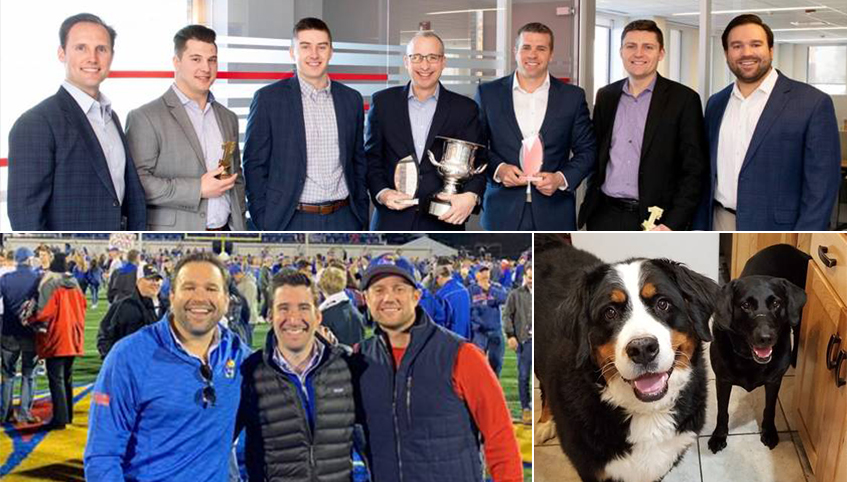 What have you learned about the cancer center that surprised you?
From a regional perspective, I was very naive as to how impactful the cancer center is to our neighboring communities. Up until my early 20s, I simply thought it was our local care facility. I had no clue it is one of the top cancer centers in the country, and individuals across the region rely on this care because it is their best and closest option for diagnosis and treatment.
What do you like to do in your spare time?
I am an avid fan of the Kansas City Chiefs, Royals and the University of Kansas Jayhawks. I was living in Chicago at the time and unfortunately missed the 2015 Royals World Series parade, so it was really special to be in attendance for the Chiefs Super Bowl parade this past February. Aside from sports, I enjoy spending time outdoors with my dogs Dug and Riley.