March 16, 2021
An estimated 700,000 people in the United States are living with a primary brain tumor, and about 85,000 more will be diagnosed in 2021. In children, brain tumors account for about one in four pediatric cancer cases. Despite great advances in our understanding of the biology of brain tumors, the mortality rate has stayed the same for about three decades.
David Akhavan, MD, PhD, assistant professor of Radiation Oncology, translational physician-scientist and a member of The University of Kansas Cancer Center's Cancer Biology research program, is seeking better treatments for low- and high-grade tumors of the brain. In treating brain tumors, the biggest obstacle by far is stamping out all traces of the tumor. If just a few cancerous cells survive, the cancer will likely return.
Surgery, chemotherapy and radiation may slow the progression of such tumors, but more effective treatments are needed. According to Dr. Akhavan, cell-based therapies, a type of immunotherapy that involves genetically modifying a patient's T cells to effectively fight off disease, hold great potential in the treatment of brain tumors. Multiple CAR T-cell therapies are already approved for the treatment of some blood cancers but have yet to gain a foothold in solid tumors. Dr. Akhavan and his research team focus on overcoming the barriers preventing the translation of CAR T-cell therapy in brain tumors.
"A major hurdle is getting the CAR T-cell to infiltrate the solid tumor mass. The tumor microenvironment is harsh, and it is difficult for CAR T-cells to survive in it," Dr. Akhavan said.
Scientists also face the challenges of identifying antigens to target, as well as the T-cells' inability to effectively penetrate the solid tumor's microenvironment. The good news, Dr. Akhavan pointed out, is that researchers are learning more and more, and clinical trials have generated impressive results in small groups of participants.
A physician-scientist, Dr. Akhavan tackles the complexities of developing effective CAR T-cell therapies for brain tumors from multiple angles. While in residency at City of Hope Comprehensive Cancer Center, Dr. Akhavan worked in a translational lab, studying the cell biology of brain tumors and designing cell therapies. As a trained radiation oncologist, it was his job to treat the mouse models with radiation, priming the tumor microenvironment to receive experimental CAR T-cell therapy. With one foot in the laboratory and the other in the clinic, Dr. Akhavan can apply clinical observations to his research, and vice versa.
"If we want to successfully apply immunotherapy to brain tumors, we must have an intimate understanding of the cell biology of the tumors," Dr. Akhavan said. "What's happening on the cell surface in terms of upregulation, whether the drugs are hitting their target, and more – we must know the answers to these questions."
Leveraging The University of Kansas Cancer Center's deep bench of clinical and translational experts, as well as the specialized infrastructure it takes to offer leading-edge cell therapy trials, Dr. Akhavan is studying CAR T-cell therapies in mouse models, with the intent to launch an investigator-initiated trial. It takes time for translational research to move to clinical practice, but according to Dr. Akhavan, there is no time to waste.
"People are suffering from brain cancer right now. Exciting new therapies are just a few years away, and I want all patients to benefit," Dr. Akhavan said. "It pushes me to do more."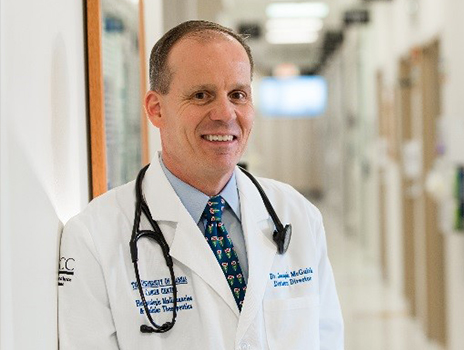 Learn More
Joseph McGuirk, DO, director of KU Cancer Center's Hematologic Malignancies and Cellular Therapeutics program, shares more about the future of immunotherapy.
the next chapter in immunotherapy research