May 31, 2016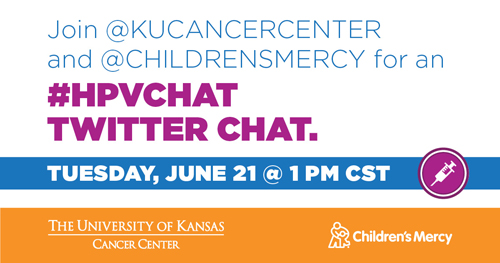 Did you know that Kansas has the lowest HPV vaccination rate in the United States? On June 21, 1-2 p.m. (CST), The University of Kansas Cancer Center and Children's Mercy Hospital are teaming up to host, via Twitter, an online discussion about HPV and the importance of the vaccine to help prevent cancer. The chat will be moderated by a team of eight medical professionals from Children's Mercy, The University of Kansas Cancer Center and The University of Kansas Hospital.
The goal of this chat is to educate those who want to learn more about the virus and the vaccine, while also addressing concerns and dispelling misconceptions. We encourage parents, patients and cancer survivors, as well as doctors, nurses and other health professionals to participate in the discussion.
How to join:
The more participants, the more people we can educate! You can join the conversation and help amplify this important cancer prevention information by retweeting and posing/answering questions. Even if you're not comfortable with Twitter, you can easily follow the conversation by searching for the hashtag, #HPVchat, on Twitter.
If you are new to Twitter chats, you can use the following steps to sign up and participate.
Create a Twitter account at Twitter.com.
Search for the @KUcancercenter and @ChildrensMercy Twitter accounts and click "Follow."
Sign in to your Twitter account on Tuesday, June 21st at 1:00 p.m. CST and search #HPVchat in Twitter's search bar.
Click "More options" and then "Save this search" to follow the ongoing dialogue.
To participate in the Twitter chat, tweet your comment or question and include the hashtag #HPVchat. Then, click refresh to view your tweet.
To receive notifications about the upcoming chat via Twitter or to submit a question, please email your Twitter handle or question to kdhall@kumc.edu.