July 25, 2016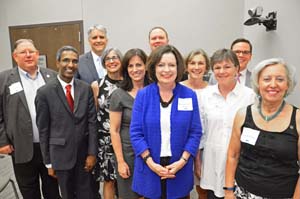 Leaders from The University of Kansas Cancer Center joined about a dozen Kansas legislators, patients and others on July 21 to celebrate a new state law forbidding minors from using commercial tanning beds.
Approximately 820 Kansans this year will be diagnosed with melanoma, the most deadly form of skin cancer. The law, which took effect July 1, eventually could lead to 10 to 20 percent fewer cases, cancer center Director Roy Jensen, MD, announced at the news conference, held at the KU Clinical Research Center in Fairway.
Jensen and others at the event hailed the law's bipartisan, broad-based support. Surgical oncologist Joshua Mammen, MD, PhD, first pitched the bill to legislators in 2012 and has continued to push it ever since. He said Kansas is now one of about 12 states with similar laws.
Others at the conference who were lauded for their support of the new law included Kansas House Representative Daniel Hawkins, who shepherded the bill through his chamber; melanoma survivor Amy Holdman, who testified several times before legislators; and Hilary Gee from the Cancer Action Network, the American Cancer Society's lobbying arm.
"This truly was a bipartisan effort – Democrats and Republicans working together in both the House and Senate," said House Representative Kathy Wolfe-Moore. "It's fabulous to finally get across the finish line. As a melanoma survivor, I'm particularly passionate about the subject. This law has the potential to save lives," she said.
Jensen's own "blunt testimony" also helped legislators overcome criticisms that the bill interfered with business and that parents should have the right to exempt their children from the rule.
"Indoor tanning causes cancer. There is no scientific dispute," Jensen testified. "There is no intelligent contradiction to that. And it's a fact."
This legislation represents a key component of The University of Kansas Cancer Center's drive towards demonstrating a robust cancer control and prevention program at the cancer center. The passage of this policy strengthens the cancer center's upcoming application for National Cancer Institute Comprehensive Status, and allows the cancer center to support world-class research and treatment while also creating more jobs and supporting the Kansas economy.
Additional Resources