September 15, 2016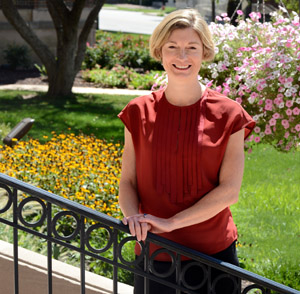 Currently, excess body weight contributes to as many as 1 in 5 cancer-related deaths. Obesity is associated with increased risk of at least eight types of cancer. The American Society of Clinical Oncology has identified obesity as a health risk that is "quickly overtaking tobacco as the leading preventable cause of cancer." And obesity rates tend to skew higher toward people in rural communities, who account for nearly 20 percent of the United States population. Subsequently, this population is at higher risk for certain cancers.
What's more, a National Cancer Institute study projects that if existing obesity trends continue, it will lead to about 500,000 additional cases of cancer in the United States by 2030. The study also found that if every adult reduced their body-mass-index by 1 percent, which equals about 2.2 pounds for an adult of average weight, there would be about 100,000 fewer cancer cases.
That's why Christie Befort, PhD, co-leader of the Cancer Control and Population Health research program at The University of Kansas Cancer Center, is looking at different approaches to treat obesity in rural areas.
"This study is about finding effective ways for obese people to lose excess weight. Not only can we reduce their chances for certain types of cancer, but for a host of other health problems," said Befort.
The three-arm study is funded by a $10 million grant from the Patient-Centered Outcomes Research Institute (PCORI). It compares the traditional office visit/fee-for-service approach with models that coordinate services in a patient-centered medical home or through a telephone-delivered disease management. The latter models allow professionals with training in weight loss counseling to provide care with after-hours group visits, phone visits and email/text message support.
"In this study, I have learned how much family physicians truly care about their patients and want to help them. The challenge is that physicians don't always have the right tools to help patients change their behavior. As a result, they end up feeling ineffective as a provider, which can lead to avoiding the topic altogether," said Befort.
One of the three treatment methods will be used at 36 primary care practices in Kansas, Nebraska, Wisconsin and Iowa. Patients' weight loss at 24 months will be used to measure and compare the effectiveness of the different methods. Approximately 1,400 patients will participate in the study.
The five-year-long project, called RE-POWER (Rural Engagement in Primary Care for Optimizing Weight Reduction), is in its second year. Befort worked with a patient advisory panel to define the treatment approaches. She also engaged with rural primary care providers, insurers, the American Academy of Family Physicians, the National Committee for Quality Assurance and state health departments.
"A lot of Kansans live in rural areas. If we can find a better way to help folks in rural communities lose weight, then we have the opportunity to reduce cancer risk for Kansans across the state," said Befort.