October 20, 2016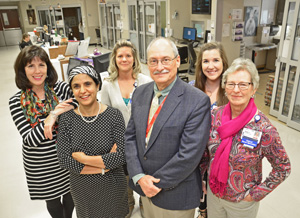 The Pediatric Hematology/Oncology program at The University of Kansas Cancer Center has outstanding specialists, exceptional nurses and highly personal care.
The program treats approximately 35 children, adolescents and young adults each year who have a wide range of cancers. One particular area of emphasis is treating sarcoma, a cancer of connective tissue and bones.
That's because The University of Kansas Hospital includes outstanding oncologic orthopedic surgeons with impressive sarcoma expertise, said Thomas Loew, MD, pediatric hematologist/oncologist, one of the two physicians fully dedicated to the program. By adding Loew's sarcoma experience and that of his associate, pediatric hematologist/oncologist Jyoti Panicker, MD, the program is taking a "centers of excellence" approach in this area.
The team also treats patients with sickle cell disease, hemophilia and many other blood diseases.
Panicker believes the program's size is an advantage. "In a smaller setting, communication levels are very high," she said. "We know our patients and they know us. That's extremely valuable and comforting when you're dealing with a disease like cancer."
The personal touch is even expressed in the surroundings. In addition to inpatient pediatric care, there's a special outpatient treatment area at the Richard and Annette Bloch Cancer Care Pavilion in Westwood.
The hospital also supports pediatric patients through the two-year-old Pediatric Cancer Survivorship Transition program, developed by the Midwest Cancer Alliance, the outreach arm of The University of Kansas Cancer Center in partnership with Children's Mercy Hospital and the University of Kansas Medical Center.
The transition clinic is one of a handful in the country supporting childhood cancer survivors, who are at risk for later health challenges, including heart, lung and fertility issues. It helps these survivors, who are now adults, monitor their health and learn about treatments available through the hospital.