December 01, 2016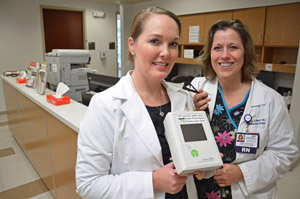 Lymphedema is a condition that can happen when breast cancer surgery includes removal of lymph nodes, or through other breast cancer treatment like radiation.
The result is often a painful swelling of one arm, up to four times its normal size.
The University of Kansas Cancer Center is the only facility in the area, and one of a few in the country, focused not only on lymphedema treatment but also on surveillance.
"Early detection is key," said clinical nurse coordinator Mary Jo Ward, RN. "If we can catch it before the big swelling occurs, we can usually reduce it by doing some simple things at home."
Several hundred times each month, she and colleagues at the Lymphedema Prevention Clinics at the Richard and Annette Bloch Cancer Care Pavilion in Westwood and The University of Kansas Hospital – Indian Creek Campus use painless devices to monitor patients for the first signs of lymphedema.
A perometer measures arm circumference before and periodically after surgery, providing a baseline so subtle changes in the arm will be detected early. The rectangular device passes over each of the patient's arms in a single round-trip, using infrared light beams to measure arm volume.
Another device, called an L-Dex, also records a baseline for cancer patients. The small box works at the bedside, using small leads to measure a patient's lymphatic flow. The test is covered by Medicare and some insurance plans.
To explain why lymphedema occurs, clinical nurse coordinator Sabrina Korentager, RN, compares a patient's arm to a road construction site.
"When lymph nodes are removed through surgery, it's like intersections being removed during construction," she said. "Fluid can't move through the body and out because pathways are gone. If alternate routes can't be found, then fluid 'traffic' backs up and the arm begins to swell."
Once detected, treatment can include at-home programs of stretching, use of a compression sleeve and patient self-massage on the affected side. With the help of techniques like these, many patients have returned to normal exams and have never developed lymphedema.