May 26, 2017
Yong Zeng, PhD and Andrew Godwin, PhD were awarded a highly-competitive $1.2 million R33 grant from the National Cancer Institute (NCI) to continue the development and clinical validation of an innovative lab-on-a-chip technology for non-invasive "liquid biopsy" based cancer diagnosis for children and young adults with Ewing Sarcoma (EWS). This research is in collaboration with Glenson Samuel, MD, FAAP, Children's Mercy Hospital co-investigator.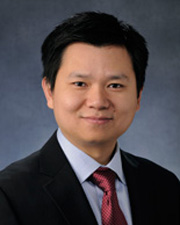 Dr. Zeng an expert in microfluidics and biomedical engineering and Dr. Godwin an expert in cancer biology and tumor biomarkers, and pediatric hematology oncologist/physician scientist Dr. Samuel have joined forces to develop an integrated microfluidic exosome analysis system to capture and interrogate cancer-derived exosomes in the circulation. this stemmed from Drs. Samuel and Godwin's earlier research on the use of cancer-derived exosomes in Ewing Sarcoma as biomarkers for this disease.
The University of Kansas Cancer Center's Biospecimen Respository Core Facility and Children's Mercy Division of Pediatric Hematology Oncology and Bone Marrow Transplantation have developed the first pediatric sarcoma biobank in the Kansas city region, collecting blood and tumor samples from newly-diagnosed and recurrent Children's Mercy patients. For this grant, they will measure EWS-Ets fusion transcripts and proteins in EWS-derived exosomes from these samples. Ewing Sarcoma is the second most common type of pediatric bone cancer, and a deadly threat to children and adolescents. Liquid biopsies are non-invasive blood marker tests sensitive enough to detect circulating biomarkers, e.g., exosomes and their cargo, that are actively released and accumulate in bodily fluids.
The technology will allow doctors to diagnose Ewing Sarcoma earlier and monitor treatment more effectively, using only a small drop of patient's blood. Godwin, Director of Molecular Oncology at KU Medical Center, currently serves as the cancer center's deputy director, while Zeng, an Assistant Professor of Chemistry at The University of Kansas, is a member of the cancer center.
Children's Mercy, along with Stowers Institute of Medical Research, is a member of KU Cancer Center's NCI Consortium. Each of the cancer center's consortium partners adds an important dimension to the strength of the cancer center, contributing to the accomplishments in basic and clinical research and cancer care.