May 30, 2017
Passing of the baton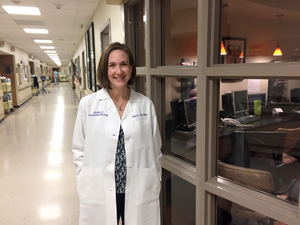 The University of Kansas Cancer Center has appointed Tara Lin, MD to the role of medical director for its Clinical Trials Office (CTO). Lin steps into the position July 1st, succeeding Stephen Williamson, MD, who has served in the role for the last 4 years.
Lin has been preparing for the position her entire medical career, but particularly in the last few years. That's when Williamson witnessed her expertise and tapped her to be his successor. A year ago, he appointed Lin as the CTO's associate medical director. It's sentiment shared by The University of Kansas Cancer Center Director Roy A. Jensen, MD.

"Dr. Williamson and I agree that Dr. Lin has the expertise and the understanding of what it takes to successfully conceive, manage, regulate, analyze and present results of clinical trials, and we are confident that Dr. Lin is the right person for this role," Jensen said.
Lin's education includes an emphasis in clinical research, having earned her medical degree from the Medical College of Virginia/Virginia Commonwealth University in Richmond and a degree in Clinical Research from Tulane University School of Medicine in New Orleans. She completed a residency at the University of Maryland in Baltimore, and fellowships at Johns Hopkins University, Baltimore, and the University of California David Geffen School of Medicine in Los Angeles (UCLA). Her research endeavors have focused on new therapies in relapsed acute leukemia and cancer stem cell targeted therapies. Her passion and expertise for clinical trials will shape the future of the CTO.
"I trained under a clinical trialist, so it would never occur to me to not have clinical trials be an essential part of oncology care," Lin said. "We have a great clinical trials program. I'd like to expand it even further. We should have a trial for every patient that we see. It is the only way we make advances in cancer care and create better outcomes for individual patients."
As part of her five-year growth plan, Lin will focus on working closely with investigators across the disease working groups and focus on the priorities of each. She plans to expand the CTO's collaboration with Kansas City-area partners, as well, including "home-grown ideas" from Stowers Institute for Medical Research and Children's Mercy Hospital.
"Dr. Lin knows clinical trials. And investigators will feel comfortable talking to her because of her expertise," Williamson said. "She's open minded. And even though her disease specialty is leukemia, she'll work for everybody."

For his part, Williamson has no plans for retirement. In fact, he will continue to serve as director of the cancer center's Early-phase Clinical Trials unit. Under his leadership, he plans to focus on the work of younger clinical trial investigators in hopes of getting their ideas off the ground. Also, he plans to identify new drug therapies that may hold value and secure much needed funding.
"Under Dr. Williamson's leadership, our clinical trial accruals have increased nearly 50 percent and he has completely revamped the organizational structure of the Clinical Trials Office," Jensen said. "We appreciate his commitment to excellence and look forward to his continued involvement as the director of our Early-phase Clinical Trials unit."
Both Williamson and Lin are excited by the CTO's potential in the years ahead. As leaders, they've witnessed the bigger picture — the transition from paperwork to cure, and everything in between.
"As I prepare to leave this role, my most important goal is to let the staff know how much they are appreciated," Williamson said. "We invite the patients who have been on trials to come and talk at our staff meetings. It gives the staff a chance to see the fruits of their labor. They see what their work really means."