June 16, 2017
The University of Kansas Cancer Center's Health Equity Steering Committee held its inaugural meeting this week.
Health equity is defined as all people having the opportunity to attain their highest level of health. However, health equity doesn't exist for all Kansans. Many groups have been historically neglected and that neglect extends to the prevention of cancer and cancer care. Such health disparities result in a higher burden of illness, injury, disability and/or mortality.
To close this gap in cancer prevention and care, the steering committee will take the initial steps to understand the current resources available and to review the available research to identify problem areas and guide the development of initiative goals.
"Inequities affect us all," said Sally Maliski, PhD, RN, FANN and associate director of health equity.
"It's not just a social justice issue… These inequities represent lost human potential, decreased productivity and increased healthcare costs."
The Health Equity Steering Committee's work is consistent with the cancer center's vision to decrease the burden of cancer.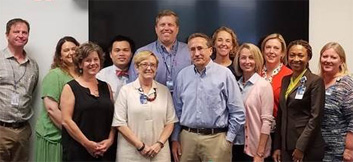 ---

Pictured above from left to right:
Front row – Hope Krebill, Midwest Cancer Alliance; Sally Maliski, PhD, RN, FAAN; Andy Godwin, PhD; Gina Johnson, MSN, RN; Dineo Khabele, MD
Back row – Allen Greiner, MD, MPH; Christine Daley, PhD, MA, SM; Xinglei Shen, MD; Christian Sinclair, MD; Chris Mackay, MSA, RN, CCRP; Jennifer Klemp, PhD, MPH; BJ Broome