July 05, 2017
Cancer of the esophagus is rare, accounting for just 1% of all cancers in the United States.
But for the approximately 17,000 Americans expected to be diagnosed with it this year, the disease is certainly significant. Which is exactly why physicians at The University of Kansas Cancer Center have created an esophageal cancer support group.
"We have a passion for these patients and their disease," said surgical oncologist Mazin Al-kasspooles, MD. "There's a lot of awareness of breast and prostate cancer, but not a lot of attention for our patients and their support system. It's important they also get to meet and share with other survivors."
The support group, which debuted in May, is the first of its kind in the Kansas City area. Approximately 20 patients, along with their spouses and other family members who serve as their support system, meet monthly in Leawood at Turning Point, which is part of The University of Kansas Health System.
At the June 21 session, one participant tells the crowd he was diagnosed with esophageal cancer several months ago and is now finished with chemotherapy and radiation. His esophagectomy, a procedure to remove most of his esophagus, is slated for this summer. "I have a billion questions but nowhere to turn until now," he tells the group.
For more on the Esophageal Cancer Support Group, call Turning Point at 913-574-0900.
His interest is an example of the group's need, say the physicians, who have long wanted to create such a support group.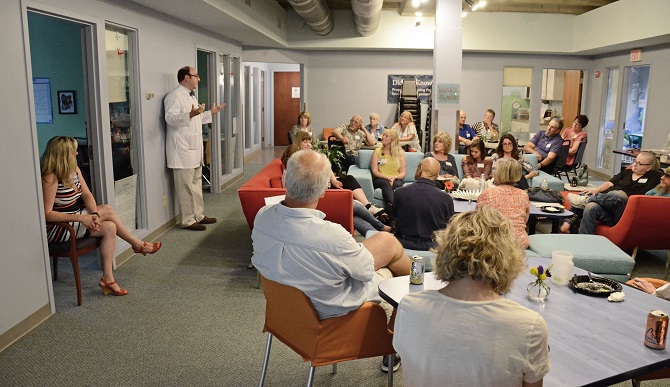 While the physicians lead the discussions, they emphasize the new support group couldn't exist without the work of Dianne Dickenson, who is the lead physician document assistant for the health system, and Katie Strahan, Turning Point program coordinator.
The June session focused on food, namely the challenges of finding the right diet that agrees with esophageal cancer survivors. Eating 3 full meals a day is a luxury for just a few of them – 6 small meals is more common. One participant said he prefers tater tots over fries at restaurants, because tots make better leftovers.
Some topics for future sessions include regaining active lifestyles after treatment and navigating grief.
About esophageal cancer
Rates of esophageal cancer nationwide are fairly steady. Each year, 4 or 5 cases out of 100,000 people (men far more than women) in the U.S. are diagnosed, meaning 16,940 new cases are expected this year. That ranks esophageal as the 18th most common type of cancer.
However, Dr. Al-kasspooles says there has been an increase in the number of esophageal patients: The surgical team has treated approximately 200 patients in the last 5 years; about half of them live at least an hour away and can't attend the support group regularly.
Survival rates for esophageal cancer have increased substantially over the past 30 years. Even so, the disease remains one of the most difficult to cure. The 5-year survival rate is 18.8 percent – up to 43 percent if it's caught at the localized stage. Only cancer of the pancreas has a worse survival rate.
The physicians address the difficult topic of survivorship with candor, telling participants they are members of an "organic group" – some of the faces at the monthly sessions will change, though there will be some true survivors that remain.
Indeed, on this night, the talk is focused not only on surviving, but thriving. An hour after the session formally ends, a dozen survivors and their loved ones are still here, exchanging tips, recipes and their personal emails.