September 13, 2017
Shrikant Anant, PhD, associate director of Prevention and Cancer Control at The University of Kansas Cancer Center, has been selected as the 2017 Chancellors Club Research Award recipient. Anant will receive a $10,000 award and will be recognized at the Oct. 6 Chancellors Club celebration in Lawrence. The Chancellors Club was formed by KU Endowment in 1977.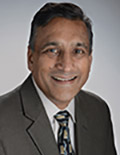 Shrikant Anant is a leading researcher in the biology of cancer, cancer prevention and new therapies. He is the Tom and Teresa Walsh Professor of Cancer Prevention, the Kansas Mason Professor of Cancer Research and Vice Chair of Research in the Department of General Surgery at the University of Kansas Medical Center.
Anant came from, as he put it, a "family of overachievers" – mathematicians, physicists, engineers – and he was the only biologist.
Roy Jensen, MD, director of KU Cancer Center, is glad Anant took that path and enthusiastically nominated him for the Research Award. Jensen said Anant played a critical role in bringing the National Cancer Institute designation to the cancer center.
"He is not only an outstanding scientist but also a person with servant leadership qualities. When Shri gets involved, good things happen, not only for him, but also for all those around him and the entire institution," Jensen said.
Much of his research focuses on cancer biology, RNA-editing proteins and the discovery and evaluation of products for cancer prevention and therapy, especially in the field of colon cancer. He also teaches, advises and mentors medical students, graduate students and post-doctoral fellows.
"This recognition is not just for me, but also for my mentees and the people in my lab," Anant said. "I believe that successful mentoring pairings are reciprocal relationships, for I learn as much if not more from mentees as they learn from me."
Career highlights:

Anant worked with the Institute for Advancing Medical Innovation and the KU School of Medicine's Urology Department to develop CicloMed, a new drug to treat bladder cancer. It is positioned to go to clinical trials.


Anant has 132 publications of his research, most of it in peer-reviewed journals.


He has developed several cutting-edge research projects, including a "tumor in a dish" method to study tumor metastasis, and the discovery of a cancer stem cell in the intestine along with a protein that marks those cells and suppresses them.


The Chancellors Club, formed in 1977 by KU Endowment, recognizes both donors of major gifts designated for specific purposes on any of KU's campuses and annual donors to the Greater KU Fund.