September 05, 2017
Braden's Hope announced it will be awarding $3 million to advance childhood cancer research at The University of Kansas Cancer Center and Children's Mercy. Braden's Hope is a Kansas City-based charity that raises awareness and funds for precision-based research to cure childhood cancers.
Cancer is the second leading cause of death in children, yet childhood cancer research is vastly underfunded. Braden's Hope will award three $1 million research grants over the next three years to collaborative teams led by KU Cancer Center and Children's Mercy.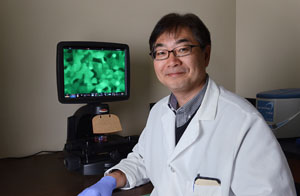 The first grant will fund efforts to develop new therapies to target aggressive osteosarcoma. Osteosarcoma is the most common type of bone cancer and is the second leading cause of cancer-related deaths in children and young adults. Research will be led by KU Cancer Center researcher Tomoo Iwakuma, MD, PhD. Katherine Chastain, MD, a pediatric oncologist at Children's Mercy, will manage the clinical trial.
The project is supported by KU Cancer Center's Target Acceleration Group, comprised of drug discovery and development experts including Michael Baltezor, PhD, Melinda Broward, MS, Anuradha Roy, PhD, Frank Schoenen, PhD, and Scott Weir, PharmD, PhD.
With this funding, KU Cancer Center and Children's Mercy are able to advance research that may one day improve treatment outcomes for the long-term survival of children with cancer.
About Braden's Hope
At the age of 3, Braden was diagnosed with neuroblastoma and given a 30 percent chance of survival for five years. He relapsed at 5 and was told there was no known cure for his cancer. Three months after his relapse, Braden's mom, Deliece, was diagnosed with Stage II breast cancer. Deliece had many precision-based (targeted) therapy options for her cancer because research had been done. This was not the case for her son. Braden's Hope was established by Braden's family and friends, with the goal of raising awareness and funds for this terrible disease. After a battle with secondary leukemia, Braden is now in remission.