October 04, 2017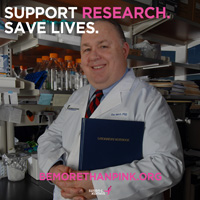 Susan G. Komen announced that it will be awarding Danny Welch, Ph.D., $300,000 to advance research on metastatic breast cancer.
Welch is studying the role of genes that suppress the ability of breast cancer cells to spread to other parts of the body (metastasis). By understanding why and how metastasis happens, new targets can be identified for therapy and guide treatment decisions. Metastatic breast cancer is responsible for almost all of the nation's 40,000 annual breast cancer deaths. More than 154,000 women are living with metastatic disease in the U.S. today.
Welch, KU Cancer Center's Associate Director for Basic Science and Education, is also a Komen Scholar. The Komen Scholars are an advisory group of 59 distinguished scholars and leaders in breast cancer research and advocacy. Each has made significant contributions to advancing the field or demonstrated significant promise of doing so in the future and all are committed to furthering Komen's mission.
"Komen has been instrumental in launching a new line of investigation for our lab --- the role of mitochondrial genetics in metastasis. Without them, this promising research would still be at the starting gate," Welch said. "With our Komen Scholar Award, we are uncovering new insights into how cancer cells regulate the genes to become metastatic, which will hopefully be able to be translated into clinical practice before too long. This award allows us to continue this work."
This grant will be crowdfunded, the first of its kind for Susan G. Komen. Through this initiative, donors have the opportunity to contribute directly to support Dr. Welch's pioneering work. Learn more at Dr. Welch's Komen crowdfunding page. The grant brings Komen's total investment for breast cancer research based in Kansas to more than $10.5 million since 1982.
Learn more about this effort to fund metastatic breast cancer research here at bemorethanpink.org.