October 30, 2017
Partnership provides grant to advance research of Mary Markiewicz, Ph.D., assistant professor and a researcher with The University of Kansas Cancer Center
During the ESPN Monday Night Football broadcast tonight, there will be an announcement that a researcher at The University of Kansas Cancer Center has won a $200,000 grant to advance immunotherapy.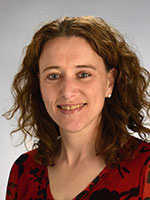 Mary Markiewicz, Ph.D., assistant professor at the University of Kansas Medical Center in the Department of Microbiology, Molecular Genetics and Immunology and a researcher with KU Cancer Center, will receive the grant, made possible by a unique partnership with the Kansas City Chiefs, ESPN, the V Foundation For Cancer Research and The University of Kansas Health System.
Markiewicz is working to learn more about "natural killer" cells, which may one day change the way cancer is treated.
"This is a type of immunotherapy where you take immune cells out of the patient, in this case natural killer cells, and do something to them to try and make them better at killing tumors," Markiewicz explained. "We manipulate them in culture so that when we transfer them back into the patient, they will go and find the tumor and destroy it."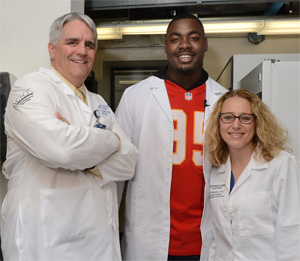 The grant, the first of its kind, was funded with a $100,000 contribution from the V Foundation to Markiewicz's research, which matched the funds already raised by the Chiefs, the Hunt Family Foundation and the University of Kansas Endowment Association, which raised 50,000 to support the effort. The V Foundation for Cancer Research was founded by ESPN and legendary basketball coach Jim Valvano. It funds cancer research nationwide.
"We would not be doing this specific research on natural killer cells if we hadn't gotten this money," Markiewicz said. "We cannot do research without grants. We do get support from the university, but we cannot do research of this size without grant funding."
Markiewicz will be at tonight's Monday night matchup between the Chiefs and the Denver Broncos, thanks to the generosity of a new KU Cancer Center advocate. Chiefs' defensive tackle Chris Jones paid a visit to Markiewicz and her lab last week to celebrate the grant. Jones has had several close family friends lose their fights with breast cancer, and he's interested in learning more about the role of cancer research.
"You know, you never really think about the people behind the job," Jones said. "All you know is that people get cancer, and they're trying to find a way to fight it. I was actually seeing what (researchers) go through and how they do it."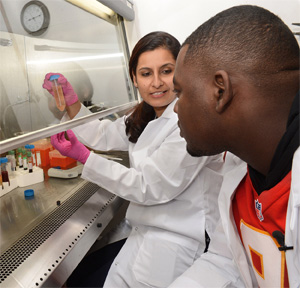 Jones met with several cancer researchers and support staff on his tour. When it was over, he asked to see more, and KU Cancer Center was happy to oblige.
"He just wanted to learn about what we were doing and about all the science, so it was great to see him so excited.," Markiewicz said. "I think it's huge just to know that people care, that they're supporting our research and that they're behind us. It's important people know what we're doing so that they can continue to help us and know that we're really trying to fight cancer."
The researchers also were excited by Jones' offer of tickets.
"Since they let me in and showed me their field of work, I wanted to invite them to my field of work," Jones said.
So tonight, Markiewicz and several other researchers and staff members will be at Arrowhead Stadium to watch Chris Jones and the rest of the Kansas City Chiefs. Together, they're all working to fight cancer.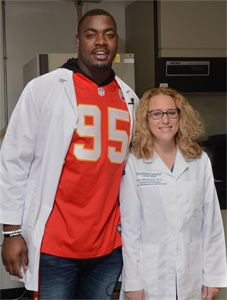 Join Us
You can join Markiewicz and Jones by donating now to www.launchku.org/cancerchallenge. We are asking for donations of $95 or $9.50 to represent Jones' jersey number 95. Funds raised will purchase some equipment to support Markiewicz's lab, including a new minus-80-degree freezer.
Learn more about the Chief's efforts with the NFL's Crucial Catch program
.
October 3, 2017
The V Foundation Teams Up with the Kansas City Chiefs and The University of Kansas Health System for Victory over Cancer