December 20, 2017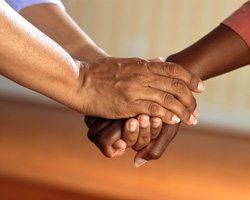 The holiday season can be a time of stress under any circumstance, but when a friend or loved one is fighting cancer, it can be even more difficult.
It's at times like these that the struggle to find ways to be supportive can feel insurmountable. Here are some tips for giving during the holidays.
Sometimes the best present is simply being present.
You may not realize it but the gift of your time could be the most important gift you can give. Staying connected, in and of itself, shows that you value the relationship.

Ask if the individual is up for a visit.
Be willing to listen. Encourage talking and sharing feelings.
Avoid comparing your friend or family member's experience to anyone else's journey.



Think in practical terms. Offer to help in specific ways.
Often, people don't feel comfortable asking for help even when they need it.


Cook a homemade meal
Run necessary errands
Offer to perform household chores
Pick up grocery items
If there are children in the household, offer to provide an fun outing or share one of your holiday traditions like going to the movies or baking cookies together
Cancer survivor Becky Steiner talks about how friends and family can provide support during the holidays or any time of the year. She explains how even a simple, heartfelt gesture can have a big impact.
Just remember – the only wrong thing to say or do is to say or do nothing at all. Show your loved ones that even though their health may have changed, your relationship hasn't. Whatever you decide, never underestimate the gift of your time.
Learn more about coping during times of change. Visit Turning Point: The Center for Hope and Healing for tips on lowering stress by simplifying your holidays.