April 12, 2018
The University of Kansas Cancer Center will present preclinical evidence supporting Ciclopirox Prodrug (CPX-POM), an anti-cancer agent currently in Phase I clinical trials, at the American Association for Cancer Research (AACR) 2018 Annual Meeting in Chicago. Ciclopirox Prodrug was discovered by researchers at The University of Kansas Cancer Center and KU's Institute for Advancing Medical Innovation (IAMI).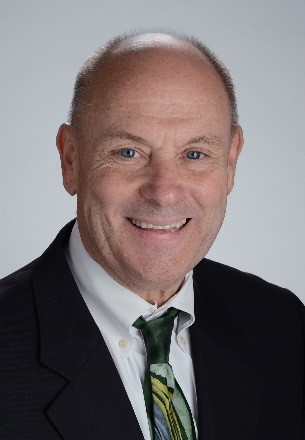 Scott Weir, PharmD, PhD, associate director for Translational Research at The University of Kansas Cancer Center and director of IAMI, will present a poster entitled "Bench-to-bedside translation of ciclopirox prodrug for the treatment of non-muscle invasive and muscle-invasive bladder cancer," from 8 a.m. to noon Wednesday April 18 (Abstract No. 5882 / 29; Poster Section 39, Exhibit Hall A, McCormick Center South).
CicloMed LLC is leading the development of CPX-POM for the treatment of bladder cancer. CicloMed was formed as a public-private partnership between BioNOVUS Innovations LLC and IAMI in 2016.
"The poster at AACR 2018 summarizes preclinical proof of principle data for Ciclopirox Prodrug supporting investigation of this agent as a potential treatment in bladder cancer. Based on evidence presented at AACR and other data, CicloMed is now conducting a first-in-human clinical trial of CPX-POM to characterize its safety, dose tolerance, pharmacokinetics and pharmacodynamics in patients with advanced solid tumors. We look forward to reporting further progress," said Tammy Ham, president and chief executive officer of CicloMed LLC.
The Ciclopirox Prodrug poster describes evidence generated from in vitro experiments on high-grade human bladder cancer cell lines, as well as in vivo preclinical studies conducted in a validated mouse model of bladder cancer. The evidence Weir will present suggests Ciclopirox Prodrug inhibits progression of non-muscle invasive to muscle-invasive bladder cancer.
"Through our unique public-private partnership, Ciclopirox Prodrug has advanced from the laboratory bench to an ongoing first-in-human Phase I trial in cancer patients," said Roy Jensen, MD, director of KU Cancer Center. "The partnership with CicloMed is helping our NCI-designated Cancer Center fulfill its vision to discover and advance promising new cancer treatments to patients."
More than 500,000 men and women are living with bladder cancer in the United States. Bladder cancer is the fifth most common cancer in Americans and the fourth most common cancer in men. According to the American Cancer Society, about 81,000 new cases of bladder cancer will be diagnosed in 2018, and more than 17,000 deaths are expected this year.