April 17, 2018
A clinical trial study led by Priyanka Sharma, MD, breast oncologist at The University of Kansas Cancer Center, demonstrates that triple-negative breast cancer patients fare better when treated with a common adjuvant chemotherapy combination. The study was supported by SWOG, a global cancer research community that designs and conducts publicly funded clinical trials.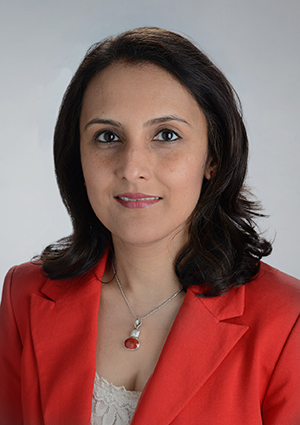 Sharma, who serves as vice chair of SWOG's breast committee, has dedicated much of her career to decoding triple-negative breast cancer's complexities, including identifying more effective treatment methods.
Triple-negative breast cancer is a difficult cancer subtype to treat. It is diagnosed based on the lack of three factors known to spur breast cancer development: estrogen receptors, progesterone receptors and the HER2 gene. Breast cancer treatments typically target these receptors. However, without the receptors, triple-negative breast cancer tumors often do not respond. About 15 percent of all breast cancer cases are triple-negative.
Triple-negative breast cancer tumors have trouble repairing breaks in double-strand DNA, known as homologous recombination deficiency (HRD). Sharma used this condition as a springboard for her research effort by testing the effectiveness of repair-inhibiting therapies like AC chemotherapy.
Sharma utilized SWOG's biospecimen bank, which houses more than 800,000 tissue, blood and other biological samples taken to conduct SWOG trials. The decades-old sample set came from a trial that assessed the effectiveness of (adjuvant doxorubicin and cyclophosphamide) AC chemotherapy in patients with high- and moderate-risk breast cancers.
Sharma's team isolated the genomic DNA and RNA from breast cancer samples, revealing that 67 percent had positive HRD status. After reviewing treatment responses to AC chemotherapy recorded in the previous trial, the team found that positive HRD status was associated with better disease-free survival.
The study revealed additional valuable findings, including the importance of storing samples.
"Banking tissue in cancer research is a smart investment," Sharma said.
Furthermore, the team learned that 25 percent of triple-negative breast cancer patients have BRCA mutations, and their tumors were HRD-positive. Fifty-five percent of patients without BRCA mutations were HRD positive.
Most importantly, the study demonstrates an effective way to treat more cases of triple-negative breast cancer.
"A solid majority – 67 percent – of patients who underwent AC chemotherapy were more likely to remain cancer-free 10 years after the AC chemo treatment," Sharma said. "HRD status is a biomarker that, when identified, can potentially help a physician best tailor a chemotherapy treatment for that particular triple-negative breast cancer patient."