May 29, 2018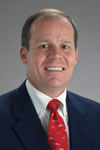 The University of Kansas Cancer Center now offers all three U.S. Food & Drug Administration (FDA)-approved chimeric antigen receptor (CAR-T) immunotherapies.
In August 2017, Kymriah, developed by pharmaceutical company Novartis, became the first gene therapy in the U.S., approved to treat children, adolescents and young adults with acute lymphoblastic leukemia that is refractory or in second or later relapse. In May 2018, it was approved to treat patients with relapsed or refractory diffuse large B-cell lymphoma in adults, a form of non-Hodgkin lymphoma. As of May 2018, Kymriah is the only CAR-T cell therapy to receive FDA approval for two distinct indications.
Leading up to the therapy's approval for large B-cell lymphoma treatment, KU Cancer Center was one of approximately 15 sites in the U.S. participating in a phase II clinical trial of Kymriah to test its safety and effectiveness. The center was the first site to enroll a patient and the lead enrolling site in the multi-center worldwide trial that led to the FDA approval. KU Cancer Center is one of only 24 certified treatment centers to offer Kymriah.
"KU Cancer Center played a pivotal role in the approval of this highly personalized, genetically engineered therapy," said Joseph McGuirk, DO, director of KU Cancer Center's division of Hematologic Malignancies and Cellular Therapeutics. "Currently, we are the only center in Kansas offering this and all other CAR-T therapies."
Only 7 percent of patients with diffuse large B-cell Lymphoma who have relapsed and are no longer responding to chemotherapy treatment will respond to further lines of treatment. In the Kymriah CAR-T cell therapy clinical trials, more than half of the participants responded and 40 percent achieved complete remission.
"Many of these same patients had durable complete remissions beyond a year, which means they no longer had signs of cancer," Dr. McGuirk added. "Those are simply stunning results."
About CAR-T cell therapy
CAR-T cell therapy is a type of immunotherapy that involves reengineering a patient's own immune cells, or T cells, to fight cancer. CAR-T therapy involves extracting the patient's T cells, genetically altering them in a laboratory, expanding the cells many fold and returning the improved cells to the patient's body – reprogrammed to recognize and attack cancer cells. Last year, the FDA approved another CAR-T cell therapy, Yescarta, for aggressive refractory adult lymphoma.
---
Bench to Bedside: FDA Approved CAR-T Therapies