August 31, 2018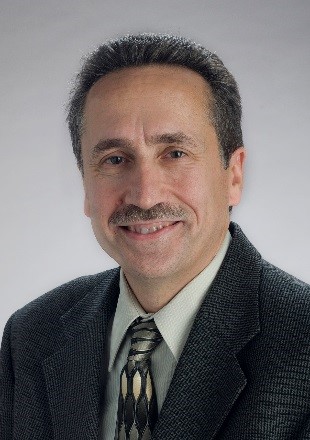 Andrew Godwin, PhD, deputy director of The University of Kansas Cancer Center, has been selected as the 2018 Chancellors Club Research Award recipient. Dr. Godwin will receive a $10,000 award and will be recognized at the Sept. 28 Chancellors Club celebration in Lawrence. The Chancellors Club was formed by KU Endowment in 1977.
Andrew Godwin is a leader in the field of translational research and precision cancer medicine. He was recruited to KU Medical Center in late 2010 as a professor of pathology and laboratory medicine and director of molecular oncology. He was appointed KU Cancer Center's associate director for translational research in November 2010 and was promoted to deputy director in May 2013. He has served as director of the cancer center's Biospecimen Repository since 2012.
Godwin is internationally recognized for his molecular biology/genetic studies of sarcoma (gastrointestinal stromal tumors and Ewings), breast and ovarian cancer, and his efforts to help bridge the gap between basic and clinical science to improve patient care.
Godwin's research focuses on the concept of obtaining a molecular definition of a tumor to define its treatment-sensitive elements, complementing his long-standing interest in the fields of cancer genetics, molecular targeted therapeutics, predictive biomarkers, early detection and biobanking.
Dr. Michael Birrer, director of the UAB Comprehensive Cancer Center at the University of Alabama at Birmingham, has been a professional colleague of Godwin for 20 years and commended Godwin's work as a scientist and a leader.
"He has extensive experience in leading multi-investigator studies and mentoring junior scientists," Birrer wrote in his nomination letter. "With respect to his research, he has made key observations that are now fundamental to several areas."
Godwin appreciates the recognition that the research award brings.
"A goal of my life and profession is to help improve the lives of people who have life-threatening diseases, such as cancer. I'm grateful to be able to work toward that goal," Godwin said. "And to be named the 2018 Chancellors Club Research Award recipient is quite an honor for a hometown boy from Lawrence."
Godwin was named a Kansas Bioscience Authority Eminent Scholar in 2010 and the University of Kansas School of Medicine Chancellor's Distinguished Chair in Biomedical Sciences Endowed Professor in 2012.
Godwin is a National Cancer Institute-funded investigator since 1993. His participation in the KU Cancer Center leadership contributed to NCI designation in July 2012.
He is a highly published scientist, with his research resulting in more than 425 manuscripts and scholarly review articles and over 37,000 citations.
The Chancellors Club, formed by KU Endowment, recognizes both donors of major gifts designated for specific purposes on any of KU's campuses and annual donors to the Greater KU Fund.