August 01, 2018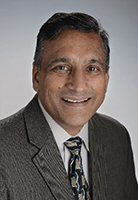 Shrikant Anant, PhD, has been named chair of the Department of Cancer Biology. The Cancer Biology research program aims to enhance interdisciplinary collaboration among basic and clinical scientists and facilitate translational research involving the etiology, treatment and prevention of cancer.
"I am excited at the prospect of growing the Cancer Biology department and further decoding some of cancer's complexities, so that we may develop new, more effective therapies," Dr. Anant said.
Dr. Anant earned a B.Sc. in zoology and a M.Sc. in medical microbiology from the University of Madras in India, a M.Sc. in microbiology from Michigan State University, and a PhD in molecular genetics from the University of Illinois at Chicago.
Dr. Anant joined The University of Kansas Cancer Center in 2010 after serving as associate professor and director of gastroenterology research at the University of Oklahoma Health Sciences Center in Oklahoma City. He led a team of researchers who discovered a new gene, RBM3, which can cause normal cells to turn into cancer cells; also, stopping RBM3's expression in cancer cells causes the cancer cells to die. Earlier, while serving as assistant professor at Washington University School of Medicine, he discovered the first tumor-suppressing RNA-binding protein. Subsequently, he discovered the rare, quiescent cancer stem cells in colon and pancreatic cancers.
Dr. Anant was a key figure in the discovery and development of Ciclopirox Prodrug, KU Cancer Center's first anticancer drug to go from bench to bedside. He was also the recipient of the 2017 KU Chancellors Club Research Award.
"Dr. Anant has a long history of being a leader in the field of translational cancer biology research. Given his research capabilities, particularly in RNA binding proteins, cancer stem cells and natural compounds, he is well-suited to lead KU Cancer Center's efforts to better understand the biology of cancer," Roy Jensen, MD, KU Cancer Center director, said.
Dr. Anant currently serves as associate director for basic science and is the Tom and Theresa Walsh Professor for Cancer Prevention and the Kansas Mason Professor for Cancer Research. He also holds joint appointments as professor in the Department of Molecular and Integrative Physiology, General Surgery and Internal Medicine.