October 17, 2018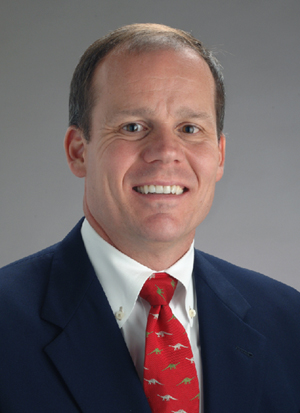 Joseph McGuirk, DO, division director of The University of Kansas Cancer Center's Hematologic Malignancies and Cellular Therapeutics program, will lead a national initiative to advance the use of CAR T-cell therapies. Established by the Association of American Cancer Institutes (AACI), the goal of the initiative is to develop and disseminate best practices that will guide AACI centers in providing more patients access to these groundbreaking immunotherapies. The AACI comprises 98 leading cancer research centers in North America, including National Cancer Institute-designated centers and academic-based cancer research programs that receive NCI support.
"CAR T-cell therapies signal a new era for cancer treatment, and AACI's member centers throughout the United States want to ensure they are able to effectively treat every patient who qualifies for this therapy. Through this initiative, we are convening CAR T-cell experts across the country to identify obstacles and enhance opportunities for centers offering these therapies," Dr. McGuirk said.
In 2017, the Food and Drug Administration (FDA) approved Kymriah® and YESCARTA® CAR T-cell therapies for the treatment of certain relapsed or refractory leukemias and lymphomas. By early 2018, nearly half of the AACI member centers were approved to provide the therapies, and many were grappling with challenges in offering CAR T to patients. With this in mind, AACI developed a CAR T Working Group, spearheaded by Dr. McGuirk.
Beginning in 2018, the working group led several discussions addressing the challenges in providing therapies to patients and weighed in with the Centers for Medicaid and Medicare Services (CMS) on recommendations for reimbursement. At the 2018 AACI Annual Meeting, the AACI Board of Directors agreed the group is critical to bringing individuals at the cancer centers together to discuss major barriers and offer best practices for launching and managing a CAR T-cell therapy program.
"The use of CAR T-cell therapies necessitates a robust clinical and operational infrastructure. This initiative will help navigate the challenges to ensure more patients have access to these therapies," said Roy Jensen, MD, AACI president and director of KU Cancer Center.
Members of the initiative will include individuals from AACI member centers who are subject matter experts in the field of CAR T. They will formulate working groups focused on addressing pertinent issues, including best practices clinical research, management and operations.
"Immunotherapy has emerged as an important tool in cancer treatment," said AACI Executive Director Jennifer Pegher. "With CAR T-cell therapies offered by half of our member cancer centers, it's clear that CAR T is the next wave of innovation in cancer treatment. Since AACI had already established a CAR T working group guided by Dr. McGuirk, it felt like the right time to take a deeper dive into this exciting therapeutic approach."