October 26, 2018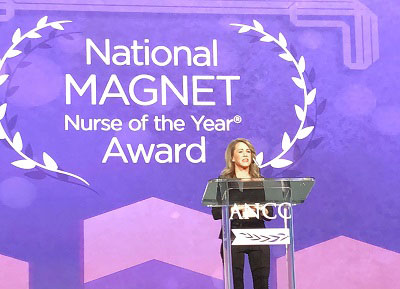 Lindsay Norris, RN, has received the National Magnet Nurse of the Year Award, our organization's third recipient of the prestigious award in the past six years.
Norris, clinical nurse coordinator in The University of Kansas Cancer Center's exam team at Westwood and the Indian Creek Campus, was honored in the category of Structural Empowerment, one of five Magnet Nurse of the Year award categories.
Presented by the American Nurses Credentialing Center, the awards were announced Oct. 25 during the association's conference in Denver. See the list of winners.
Norris was recognized for her outstanding contributions to internal education by improving professional nursing certification at The University of Kansas Hospital.
Her inspiration to better educate and equip her teams comes from a personal battle with Stage 3 colorectal cancer, which began in 2016. Throughout her treatment at the cancer center, she experienced the cancer patient journey first-hand and was inspired to share her insights in a poignant "letter to patients" that received national attention.
"The relationship between the nurse and patient is so important because we serve as a lifeline," says Norris, who joined our health system 10 years ago. "Patients are just trying to process all the information related to their cancer and we get the opportunity to be a translator."
She adds: "Being a Magnet nurse at a Magnet-designated hospital gives me that added confidence boost to empower the people I work with to help patients better navigate their cancer treatment."
---