October 01, 2018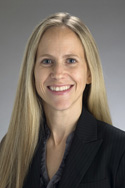 Melissa Mitchell, MD, PhD, radiation oncologist at The University of Kansas Cancer Center, has been named a senior editor for the breast track
of Practical Radiation Oncology (PRO), an official journal of the American Society for Radiation Oncology (ASTRO) .
ASTRO is the premier radiation oncology society in the world, with more than 10,000 members globally. It advances the practice of radiation oncology by promoting excellence in patient care, providing educational and professional development, promoting research and disseminating research results.
Membership includes physicians, nurses, biologists, physicists, radiation therapists, dosimetrists and other healthcare professionals who specialize in treating patients with radiation therapies. More than 1 million cancer patients receive radiation therapy each year at hospitals, cancer treatment centers and academic research facilities around the globe.
ASTRO is dedicated to improving patient care through professional education and training, support for clinical practice and health policy standards and advancement of science, research and advocacy. In addition, ASTRO provides continuing medical education, health policy analysis, patient information resources and advocacy that members need to succeed in today's ever-changing healthcare delivery system.
As senior editor, Dr. Mitchell will facilitate the peer review process for breast cancer manuscripts, assist with the journal's content enrichment and promotion efforts, solicit top papers and help expand the pool of qualified reviewers.
"I am honored to have this opportunity to serve as an editor for PRO, and am eager to contribute to the missions of the journal," Dr. Mitchell said.