November 02, 2018
Staff at The University of Kansas Cancer Center are using a new device that makes it remarkably easy and convenient to screen for lymphedema.
The new technology, ImpediMed's Sozo, is changing the way patients, care teams and researchers approach lymphedema, a common side-effect following surgery for breast cancer and other cancers. It can lead to painful swelling, usually in patients' arms or legs.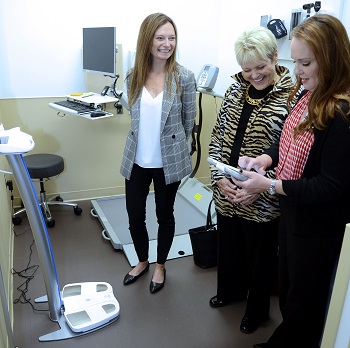 To screen for lymphedema with Sozo, patients now simply remove their shoes and socks and stand on what looks like a scale. In a couple of minutes, the screening is complete. Results are immediately downloaded to a tablet, which connects to the patient's medical record.
The clinician conducting the screening does not need specialized training. And the devices are small, so they require minimal space in the clinic.
Since debuting last month at the Westwood and Indian Creek campuses, Sozo is expected to roll out at KUCC's community locations within the next six months, says Kathy Hulen, RN, director of nursing for the cancer center.
"Eventually, a patient who has surgery at Indian Creek could have her follow-up screenings in Lee's Summit, much closer to her home," she notes.
For patients even further away, the technology has the capability to make follow-up screening even more convenient. "This is the kind of technology that can help us fulfill our commitment to caring for people across the state," says Jamie Wagner, DO, division chief, breast surgical oncology.
"In the future, a patient who lives in Hays and has surgery here might have her lymphedema screenings at HayMed. We would see the results of the screening immediately," she adds. "It's a great example of how technology can help us keep patients closer to home while still benefiting from the most advanced academic medicine."
Long-term, use of the new devices may also be expanded to screen for lymphedema in patients with other types of cancers or conditions. And because results are available in real-time, researchers can track and trend data, providing invaluable insight for initiatives to improve care moving forward.
Most important of all, more patients can be screened, and that means more patients who need care can receive it, adds Sabrina Korentager, RN, who leads the cancer center's lymphedema program, which screens hundreds of patients every year.
"With this improved screening technology, we feel more comfortable we're not going to miss someone, and we can spend more of our time focused on the patients who need us the most."
How is it different?
According to ImpediMED, the Sozo device uses Bioimpedance, which refers to the process of sending a painless electrical current, typically at one or more frequencies, through the body.
Measuring the body's resistance and reactance in response to this electrical current provides easy access to detailed information regarding fluid and tissue status without the need for an invasive procedure. Learn more.
The cancer center has used a variety of devices to monitor patients for the first signs of lymphedema. The screening could be uncomfortable and inconvenient for patients because it involved a more invasive procedure and a trip to the Westwood Campus. Patients had to lie down on an exam table and be connected to L-DEX technology via gel-backed electrodes.
The screening process required specially trained staff and took 20-30 minutes. It meant Korentager and clinical nurse coordinator Mary Jo Ward, RN, who leads the lymphedema program with her, spent most of their time on screenings instead of helping patients with lymphedema or those most at risk.
Now, thanks to the new technology, screening is a quick, easy process for both patients and care teams – and it will eventually be available at KUCC sites across the metro and beyond.
---