January 11, 2019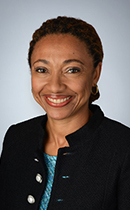 Dineo Khabele, MD, director of The University of Kansas Cancer Center's gynecologic oncology division, has been elected a new member to the American Society for Clinical Investigation (ASCI) for 2019. Dr. Khabele is one of five physician-scientists in the history of KU Medical Center to be elected to ASCI, and she is one of only three gynecologic oncologists to ever receive it.
"It is an enormous honor and a highlight of my career as a physician-scientist to be recognized for my scientific and scholarly work," Dr. Khabele said. "On a personal level, I feel it validates my hard work, persistence, passion and dedication to using science to improve women's cancer care."
Physician-scientists in the field of gynecologic oncology are rare. Dr. Khabele's scientific and scholarly work advances not only the field of gynecologic oncology, but also the fields of women's health, cancer epigenetics and cancer research. With more than 15 years of experience conducting clinical and translational research in gynecologic cancers, she is one of a few clinically active gynecologic oncologists who also leads an ovarian cancer translational research program.