January 29, 2019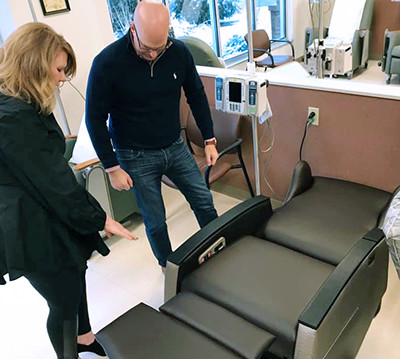 Infusion sessions for patients at The University of Kansas Cancer Center-North are now more comfortable thanks to the arrival of six new treatment recliners on Jan. 11.
The wingback chairs are made of a soft leather and have individual heating elements for the seat and back cushions. The chairs can recline into a flat position for more patient comfort and to provide accessibility for caregivers in case of an emergency.
The health system hopes to install another 13 such recliners at KUCC-North in the coming months.
Each unit costs about $5,000. The chairs were purchased with funds from Jamie's Wish Foundation, a non-profit organization formed in 2011 to provide a more healing, spa-like and nurturing environment for patients receiving infusions.
As more Jamie's Wish donations are collected, work will start on a redesign of the entire infusion area at KUCC-North, 8700 North Green Hills Road in Kansas City, Mo. The makeover will feature a new layout, warmer indirect lighting and natural colors, textures and materials.
A Jan. 11 celebration at KUCC-North marked the arrival of the six chairs. Remarks were given by Jeff Wright, vice president, Cancer Services; Marianne O'Connell, KUCC-North practice manager; and Aimee Chadwick, Jamie's Wish Foundation co-founder and president.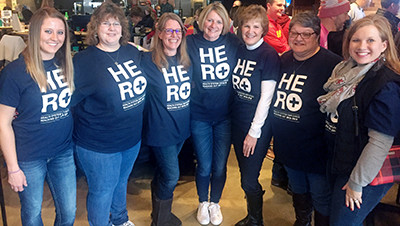 A Jamie's Wish Foundation fundraiser was held Jan. 12 at Chicken N Pickle in North Kansas City. More than 100 foundation supporters, health system staff and KUCC-North patients and relatives attended.
"The new treatment recliners are already having a positive effect on our patients receiving infusion therapy," says O'Connell.
"Patients love the comfort of the chairs and having the heating elements to keep warm," she adds. "We're grateful for the generosity of the Jamie's Wish Foundation and its partnership with our health system. We have a common goal to make the patient experience exceptional."