January 22, 2019
Mantle cell lymphoma is an aggressive and rare form of non-Hodgkin lymphoma, accounting for about 6 percent of all non-Hodgkin lymphoma cases in the United States. The disease is called "mantle cell lymphoma" because the tumor cells originate from the mantle zone of the lymph node. Of all the lymphoma subtypes, mantle cell lymphoma has a particularly poor prognosis. The 10-year survival rate is 5 to 10 percent.
Existing research demonstrates that inhibiting an enzyme known as HDAC6, a protein that promotes tumor growth and DNA repair, can be an effective treatment for both solid and blood cancers. Researchers at The University of Kansas Cancer Center are taking efforts a step further by studying novel combination therapies that also inhibit the protein p97, which is like HDAC6 inhibition, where it has the potential to impair DNA repair mechanisms. The researchers' findings were recently published in Leukemia.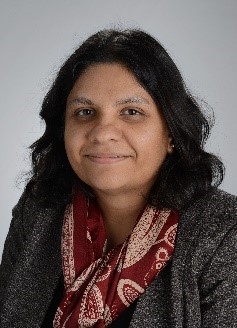 "We found that inhibiting both HDAC6 and p97 significantly impairs the ability of cells to repair damaged DNA in mantle cell lymphoma cells," principal investigator Rekha Rao Manepalli, PhD, said. "We were surprised at how effective the combination was in certain subtypes of mantle cell lymphoma, especially those with mutations in certain DNA repair proteins."
Chemotherapy resistance in mantle cell lymphoma is very common. The promising synergistic activity of these two inhibitors may translate to a new treatment option for patients, especially those who have exhausted all other available therapies.
KU Cancer Center collaborators include Roy Jensen, MD, Shrikant Anant, PhD, Siddhartha Ganguly, MD, Joseph McGuirk, DO, Neil Dunavin, MD, Dharmalingam Subramaniam, PhD, and Anusha Vallurupalli, MD.